Happy Thursday everyone!
Can you believe we're onto Week 10 of the Thankful Thursday Challenge? 
I'm thrilled to be report I've kept up to date so far this year. Okay, so we've only had two months, but that's 1/6 of the way through the year!
Before I report in on this past week, here's the
Tip for the Week:
Answer a question! 
This is a new concept I've just come across. The podcast I was listening to asked the question, Why is someone reading your blog posts? 
Ummm . . . I didn't know! Do you know why someone would want to read your post? They'll read because you have something they want to read, right? Doesn't that make sense? So how do we know what they want to read? We ask them!
So here we go. I'm going to ask you to ask me a question.
Anything that you think I might be able to answer. Ask me
about a topic you think I could share about in a blog post.
about my life, my country, my nationality (that gets complicated!).
what blog posts I enjoy reading . . . and that may just spark off an idea that you can write about!
Then put the tip into practice. On your next blog post, invite your readers to ask you a question! Fun? I think so.
(Woah! Once you've left the comment, come back and read the post! 😛 )
This last week has been a crazy hectic kind of week. The sort that you don't know how you'll ever survive. Do you ever have those sort of weeks?
So that brings me to the first thank you . . .
I survived last week!
Last Monday, I didn't think I could squash in one more thing. I did. A whole lot of things happened! So glad I coped!
Thank you for my brother and sister-in-law paying us a visit from East London.
It was so good to hear from them when they phoned a couple of days before and asked if they could come for lunch. YAY! First time they've been here since their move to East London (4 hours away).
Thank you for a braai (aka barbeque) with the family of my friend, Jen.  They're on their way to New Zealand from the UK.
Thank you for meeting that cute little boy, Ezra. Coming up for two and such a busy little chap.
It was good to be back in our own church for a service. We don't make it all that much at the moment because of Rob's preaching in other churches.
Huge thanks that a new friend, Elsje, has come on board to help us with Primetimers.
Thank you that she promoted the next meeting with such enthusiasm that one lady said to me, "She can sell ice to Eskimos!"
Grateful for a Happy Echoes concert at Cheshire Homes - a home for mentally disabled adults.
Thanks that the concert went fairly well, for the first of the year.
Thank you for the joy on the faces of those in the audience. One man even managed to join in most of the songs.
Such a thrill to realize we've made a difference to their day.
We were invited to a special tea in our hall with representatives of the Echo Head Office. Every year, one specific group are invited to attend. This year it was for those who have lived in our retirement village for between eleven and fifteen years.
It was a great time of fellowship, meeting up with folk who moved in around the same time as us.
We are a big village, so some of them we haven't seen for years, especially if they don't participate in the functions we attend. Good to meet up with them again.
Thank you for the words of Psalm 118:1. They are so true!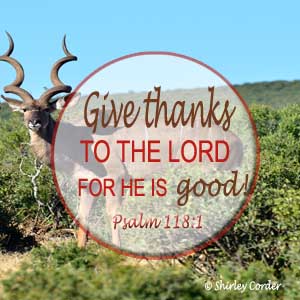 Friday was Women's World Day of Prayer. The ladies of Suriname (top of South America in case you don't know) put together a beautiful service that was used across the world.
Thank you that I was able to play the piano for the morning service in another church, where they were without a pianist.
Thank you I played okay, seeing as thanks to the hectic week I hadn't even tried the music through once!
So glad they were all well known songs, so I knew I should have no problem with them.
In the afternoon, I spoke at the service here in our hall. The theme was Everything God Made was Very Good! If you read last week's post, you would know how amazingly well that theme fitted in with my life at the moment!
Thank you that the talk went well.
I didn't have time to condense my notes into short headers, and in fact I really enjoyed speaking from full notes. That's a new one for me, and I found I had freedom that way. So I may do that way again!
PrimeTimers on Saturday!
What an awesome morning we had. Thank you that we had such energy and enthusiasm, despite my hectic week!
We had a record number of 71 over-fifties sitting around tables in the church hall. Such great fellowship.
Sharon from our church gave a short talk and demonstration on a ministry she runs. Her group of ladies (and one man) crochet or knit the most beautiful baby clothes and children's toys.
They donate them to in-need groups, prem babies, safe homes, and many other places. They've recently been asked to crochet toys for little girls who are rape victims.  😳 So very sad. But grateful that these ladies do such an amazing work.
When they meet, they enjoy fellowship, tea and cake, and pray for one another. Lovely to hear about.
Thank you for a new challenge for Prime Timers—to collect wool for these ladies. (I wish I could ask you to send some over the web!)
When it came to the entertainment, what a treat. We had asked Robert, a fairly new pianist for Happy Echoes choir, to play the piano for half an hour. Wow! He was so good! He would explain about the next few songs, then played a melody. Brilliant.
Thank you for a safe trip to Jeffrey's Bay, about an hour away from PE.
Rob enjoyed the opportunity to speak to the congregation of elderly folk who are getting ready to move into their new church.
He preached well, and the congregation seemed to enjoy his message.
Thank you for a safe trip home.
It was good to stop over at Bay West Shopping Mall on the outskirts of PE.
Thank you for the opportunity to enjoy one another's company over a nice meal.
A big thank you that on Sunday afternoon we were able to collapse on our beds for an afternoon nap!
Sunday evening I was able to work on three cards using the new technique we learned at Cardies a couple of weeks ago.
At Happy Echos (choir) on Monday we learned a new Afrikaans medley. In itself, that was good. But the really thrilling thing was the medley was compiled by Robert (mentioned above) without any help from Carol (our leader who doesn't speak Afrikaans) or me (deputy leader who does.)
Tomorrow, we're looking forward to friends Tony and Ruth Dell who are coming for lunch. They presently live in Johannesburg, so we only see them every year or so for a few hours. Tony and I were at school together, and Ruth is a member of the online writing group I run. They are leaving soon to immigrate to Ireland.
Loading InLinkz ...
I do encourage you to click below so you'll remember when it's Thursday.
Please send me a WEEKLY REMINDER when it's THANKFUL THURSDAY!
P.S. Don't forget to ask me a question!
Instructions:
Select all code above, copy it and past it inside your blog post as HTML.
Loading InLinkz ...