A very belated Happy 2019 to you all!
On the 4th of January, I posted my first "chapter" of a year-long journey. I embarked on a challenge to write about 2018 thanks that I could give during the year 2018.
It really was a challenge too! To start with, it wasn't too difficult, and I only had to come up with around 6 thanks a day. Easy.
Because I chose to post them online, I had to write 39 thanks a week, and post them each Thursday, under the header, Thankful Thursday.
2018 was not an easy year for me.
My health threw some curved balls at me. I took on too much in the writing field. What would have been fine if I'd stayed well, ended up not-so-fine when my blood pressure flew out of control not once, but three times, the third time involving a midnight ride in an ambulance to hospital.
Then I got a streaming cold days before a book deadline and a tummy bug days before the book launch. I caught some sort of virus in Johannesburg and missed the family wedding we'd scrimped and saved and travelled to attend.
On the writing front, I completed converting my book, Naomi~Beloved Mother-in-law into print, a far bigger job than I had anticipated, and held a successful book launch to celebrate at which I sold over 100 books. I also completed another A to Z Blogging Challenge on the theme, Improve Your Life, and participated in several other blogging challenges during the year.
I completed and published (as e-books) Miriam~Devoted Sister, AND Miriam~ Gifted Leader. One more book than anticipated!
Yet, during the busiest and most difficult, unhappy days, when I took a hard look at the hours, I could see God's blessings. He never let up on giving me gifts—of encouragement, of people who loved me, of moments of joy and promises of a better day tomorrow.
Throughout the year, I experienced the encouragement of a number of you following along, or taking up the challenge in your own way, and receiving blessing through it as well. Thank you for that!
CHRISTMAS EVERY DAY 
I based this challenge on a guest post by Daleen Reyburn on 11th December last year, in which she described how a similar challenge changed her way of thinking. You can read her excellent post here.
She pointed out how every day contained gifts. You didn't have to wait for Christmas! And indeed I have found this to be true.
A friend and fellow South African (until nearly a year ago) Ruth Dell, decided to join me on the challenge. She recently emigrated to Ireland so chose not to do hers online, but in the old fashioned way of pen and paper, which in many ways I think is easier.
As she finished her challenge, she made the comment to me, "The challenge is over, but the thankfulness is not. I hope to continue this new habit for the rest of my life."
The challenge is over, but the thankfulness is not. Ruth Dell
Click To Tweet
I know I am a far better and nicer person to be around since I embarked on this challenge, and so I say a very big thank you to Dalene for her encouragement!
The series began with a guest post, and I'm looking forward to another guest post in the near future written by Ruth on her experiences with this challenge. She too has had a challenging year with many ups and downs, but has found the Giving Thanks challenge a source of strength and encouragement. Watch this space for her blog post, written from a stunningly beautiful Ireland.
Where are the 2018 Posts?
I decided to delete them all, as they were really just lists of thank yous. It was interesting to see how I had started well, but as life got more and more hectic, I ended up missing some Thursdays, necessitating some long, long posts to catch up! Nevertheless, I did it. I can't say I'd do it again.
I'd happily take on the challenge again but I'd write it in my daily diary and not attempt to write it online.
The one thing I have to say in rounding off is, it doesn't matter how tough things get, it's amazing how,
if you look hard enough, you will always find something to give praise for!
Click To Tweet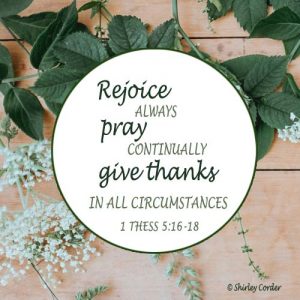 Where to next?
I have been slow getting going this year, but I am planning a new book with your help. I will have lots to ask you and hope we can have some fun in the process!
Blessings to you all!
And don't forget to say THANK YOU!
In all circumstances!
Continually!