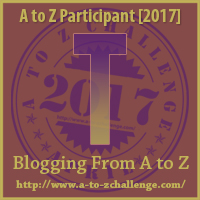 Disclosure: This post contains some affiliate links for your convenience. Click here to read my full disclosure policy.
Have you ever given a blog post (or a book!) a title which sucked? I have. And it shows up almost immediately in the stats. The title doesn't appeal. So no-one wants to read the post / book.
It's a common expression, you don't sell a book by its cover (see K is for Kindle where I refute the idea) but I'd like to take that one step further. Not only does the picture on the cover (or at the top of your post) count, so does your title.
If the title doesn't grab your potential readership, no one will read it.
It's that simple. You need to create tempting titles that will draw readers to your blog.
Follow the suggestions in this series, whether you are an author, an entrepreneur or a family scribe, and you will build a better blog than you've ever imagined . . . but use an empty title and no one will come visiting.
I researched this topic before I started to write, and I was amazed to read some of the comments. For example:
'On the average, five times as many people read the headline as read the body copy. When you have written your headline, you have spent eighty cents out of your dollar.' David Ogilvy on Writers Write.

"We spend an average of 30 minutes per title in search of the absolute best wording." Content Marketing Institute

I sometimes deliberate over titles for 30–60 minutes before settling on one that works. And I often go back and change them. Jeff Goins
HERE ARE  TWENTY WAYS TO COME UP WITH TEMPTING TITLES
Choose a T.I.P. (Title in Progress) for your blog post.

Use one or two words that sum up what you intend to write about. This helps to keep you on track. Then as you write, if you think of something you'd like to see in your final title, jot it down next to the T.I.P. Just don't forget to revisit the title before you publish the post!

Tempting titles will be short.

 Long titles can switch people off. Having said that, SEO titles are often long. If you use the WordPress plugin YOAST you will be asked to compile a SEO title, and it only goes green (judged as good) when it reaches a fair length.
So you may end up with two titles, or you can give it a sub-title.

 

For example, my book on meditations for those going through the cancer valley has the name (chosen by the publishers) of Strength Renewed.

But they gave it the subtitle: 

Meditations for Your Journey through Breast Cancer.

 Generally called

Strength Renewed

, this title wouldn't make sense to a person who didn't know what the book is about. The whole title,

Strength Renewed; Meditations for Your Journey through Breast Cancer

does.
Five times as many people read the headline as read the body copy. David Ogilvy on Writers Write.
Click To Tweet
Use adjectives and adverbs.

Here's an opportunity to use those adverbs you're always being told to avoid if you're a writer. These add colour and attraction to your tempting titles, e.g. 

 Grammatically Correct, Amazingly Addictive Puzzles, Challenging Behaviour.

 

Use an unusual description in your title.

Instead of Keeping Warm in Winter you could use Keep Deliciously Warm This Winter 
Instead of Ways to Keep Your Child from Answering Back, you could amuse and tempt your reader with Five-and-a-half Ways to Keep Your Child from Answering Back. 

Use your thesaurus

or click over to Thesaurus.com to find creative words.
Use interesting words, and please don't ever use words like "Things".

Begin your title with a number.

Ten Ways to Increase Traffic to your Blog.
Seven Ways to Get Rid of that Pacifier.
Twenty Key Points to  Finding a Reliable Used Car.

Start your title with a tempting question.

How to . . . How Not to . . . When to . . . When not to . . . 

Offer a tempting benefit to the reader.

Find Legal Images for Your Blog will draw a number of frustrated bloggers to your post who keep finding copyright issues with the pictures they want to use.

How to Photograph Your Busy Toddler

 will attract most parents.

Tempt your prospective readers by offering to teach them something new.

Put a notice on a bench overlooking a lake that says, "WET PAINT". Now tell me. What is the first thing most people will do?
People today seem to have an insatiable desire to check that facts are true, or to learn new things. Make them an offer they can't refuse.
e.g. Give the title Research and no one will give it a second glance. Try How Not to Research and immediately the interest level goes up.

Include a time limit:

There's something compelling about an article that offers us how to do something in a very little time.
Build a Website in 30 Minutes. This attracted me, even though I knew it was going to take me a lot longer than 30 minutes to produce a website up to my standard. It did. It took all of ten days working all day! But I could take the basic steps in 30 minutes.

Change your lifestyle in 20 minutes.

You know that's not possible, but does it not tempt you? Just that little bit?

Be honest with your suggestions.

That sounds like a contradiction to the previous point. But, for example, the reader in the above point could make a list of changes in the 20 minutes, and then resolve to keep working on them over the next month.
Don't make yourself out to be a liar on the web or no one will trust you again! Tempting titles are good, but they need to be truthful.
We spend an average of 30 minutes per title in search of the absolute best wording. Content Marketing Institute
Click To Tweet
Brainstorm.

Re-read those quotes at the beginning of this post. Your blog post title is the most important part of the article—so don't skimp on it.
Once you've finished writing, go back to that TIP (Title in Progress) and play with it. Does it still fit what you have written?

How can you swap it around to sound more tempting?
Can you make it shorter? Longer?
Will a prospective reader know what it's about? Or does it need a subtitle?
Spend a good while working with it, then go away and come back the next day.

Is it still the right title? Can you do better?

Make it a team-effort.

Contact a friend, describe the article and your proposed title, and get his/her take on it.
Ask your critique group if anyone has a better idea for a really tempting title.
Pose the question on your FaceBook Author page.
Whatever you do, don't rush this process. Remember that quote? Your title is worth 80% of the blog post!

Make it personal.

In The Most Important Word in Your Blog Post I speak of how, during any given month, people search for the word YOU on Google 1,680,000,000 times. Why? Because we like to read material that applies to us. See if you can use the word you in your title.

Make sure your title delivers.

If you offer 101 Ways to Decorate Your Dinner Table don't give them 100 – or 102. You think no one will notice? Oh yes they will. Even if you don't number the points (as I'm not doing here, because my website won't play nice) somewhere you can be sure there will be an O.C.D. reader who will count to be sure you got it right!

Ask a question.

e.g. Does a New Moon Really Affect People's Behaviour? 

And of course, make sure your post answers the question!

Use keywords and SEO information in your blog post title. 

According to Content Marketing Institute  the term "blog post titles" gets 260 searches a month in Google, while "blog post headlines" only gets 16. So which one would you choose?
Position keywords near the beginning if possible. So Regarding Research as You Build a Better Blog 

(where the keyword is Research)

 is better than

Build a Better Blog by Regarding Research.

Use Alliteration.

This is one of my favourite techniques. If you look through the blog post titles in this series you will see I've used this for every post in the alphabet. I find it fun, and it is also an effective way to create a tempting title.
Many famous authors have gone this way. So we have Black Beauty by Anna Sewell, Peter Pan by J.M.Barrie, Angela's Ashes by Frank McCourt, Nicholas Nickleby by Charles Dickens, Doctor Dolittle by Hugh Lofting, Captains Courageous by Rudyard Kimpling, Rob Roy by Walter Scott, Flying Finish by Dick Francis, and literally hundreds more.

Use a title template if all else fails.

Write with your eye on Twitter.

For example, Twitter allows 40 characters to a tweet. But in addition to the title, you need to add the link and you want to allow space for hashtags and a re-tweet.

So not only does that bring you back to #2: Keep it short! It also means it's helpful to have a short phrase at the beginning which will fit into your Twitter allowance.

Choose one cornerstone post, or perhaps two if your site is big.

A recent development on the Yoast SEO plugin is to select a "cornerstone" post. Before this, I had never heard of a cornerstone post. Here is a definition taken from CopyBlogger's post:


A cornerstone is something that is basic, essential, indispensable, and the chief foundation upon which something is constructed or developed. It's what people need to know to make use of your website and do business with you.
How do you choose your titles?
Do you need to work on any of these 19 suggestions?
Do you have any other suggestions?
I'd love you to type them into the comment section below. Leave a live link in your comment and I will get back to you.
 FURTHER POSTS TO READ:
Creative Content

Dogged Determination

Eager Enthusiasm

Fact or Fiction

Harnessing Hashtags

Interesting Images

K for Kindle and KDP

L is for Live and Learn

M is for Marketing Methods

N is for Nuggets and News

O is for Ongoing Opportunities

P is for Plan with Purpose

Q is for Quest for Quality

R is Regarding Research

S is for SEO Strategy
Special offer on Kindle Publishing Made Easy, a hands-on course. Expires end April. #atozchallenge
Click To Tweet