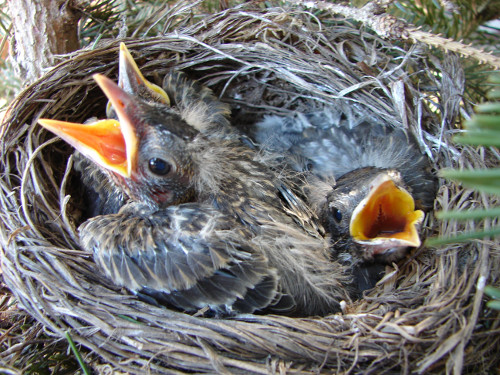 "When the children leave home, you will face an empty nest."
How often have you heard those words?
Don't you believe them!
When the time came, our nest didn't empty. Three dogs, a cat, two birds and seventy-five-and-counting tropical fish saw to that. Add three wardrobes stuffed with clothes too bright, too baggy, or too un-cool; enough computer parts to send man to Pluto; nineteen pairs of disreputable sneakers; a vast selection of indescribable, and mostly unidentifiable, objects from the bottom of cupboards and under beds; and three bookcases jam-packed with books ranging from Noddy's Adventures in Toyland to Travel to Eternity in a Spaceship.
No, our nest was not empty.
We always knew the day would come for the children to leave home. We just didn't expect it to arrive so soon. When they were babies, we couldn't wait for them to walk and talk. As they moved through their school years, we shared our pride in their achievements with everyone who seemed prepared to listen or those who didn't get away fast enough.
Yet the babyhood, childhood, and teenage years raced past like a video on fast forward. It seemed no time at all and we were discussing career choices. Where had the years gone?
One day, we came to a scary conclusion.  
"Have you done your homework?"
"Yes Mom." My son's glazed eyes told me he'd heard this too often. "I wouldn't be cleaning my hamster cages if I hadn't."
"D'you want me to come into the hairdresser with you?" I asked my daughter.
"What on earth for?" What for indeed?
"Can I make you a sandwich?" My son had been out all day and still had to wait a couple of hours until supper.
"Thanks, I've already made myself something."
Yes, we still shared the same physical address. But the children were almost adults. Our task of parenting appeared to be nearly complete. Our prayers for their future partners and for their life away from the parental nest took on a sense of urgency.
All too soon, the day came for our first-born to take off from the parental nest. She flew on shaky wings from our home in East London, South Africa, to the "Mother City" of Cape Town. She obviously enjoyed the experience, because next thing we knew she was in Venezuela, six-and-a-half thousand miles away.
Between taking off from home and coming to roost in that distant land, she qualified as a teacher. She also became a wife and the mother of two toddlers. But she remained our daughter, our little girl. The years went so fast we lost track of time, and how we missed her. And we prayed.
During this same time period, Baby Bird Number 2 completed his tertiary education and flew to a job in a neighbouring city. This arrangement suited us all. He could come home for Sunday dinner—bringing his dirty washing. He took home clean clothes. We regained control of the TV remote. It seemed a fair trade. We got to see plenty of him and enjoyed watching him find his independence. Yet we were still there to support and encourage as he completed the transformation from our growing boy into a creative and gifted young man.
Baby Bird Number 3 turned out to have similar traits to a baby eagle. Mommy Eagle eventually starts to pull out twigs from the safe nest around the baby. She then nudges Junior over the edge. As the young bird furiously flaps its wings and plummets to the ground, the parent flies underneath and catches him, returning him to the disintegrating nest. This happens several times until the youngster finds he can cope on his own.
Our baby bird decided, with our blessing, that the time had come to leave the family nest. He accepted his big brother's invitation to join him in his two-bedroom cottage.
As the days drew close for him to leave, my husband and I determined to take steps to ensure we didn't mope when the last child left home. We made plans on how we would use his soon-to-be-empty bedroom. There would always be room for whichever baby bird needed some home comfort, but we needed to move on.
The day before he would leave home, our youngest finally packed . . . a backpack with overnight things and a few extra items of clothing.
It was time to remove some twigs from the nest.
When he returned from college that day, he was astonished, and I suspect somewhat stunned, to find his parents had helped pack his belongings into cardboard boxes ready for his step away from home. How helpful of us. And what a pleasant office his room turned out to be.
And so the nest was officially empty, except on Sundays, when both sons returned home for dinner, bringing with them mounds of dirty clothes.
The second-hand shop in town accepted all the unwanted clothes. Derelicts appreciated sneakers they could happily use on the filthiest of ground with no fear of spoiling. The computer parts found a home with a man with dreams of going to Pluto. The books started a library at a retirement village where the residents' choice of literature varied from Noddy (hopefully for their grandchildren) to Science Fiction. The livestock slowly moved on to their own brand of Eternity.
Both boys found themselves brides and married. They set up home in distant parts of South Africa and no longer came home for dinner. Their wives did their washing.
And the nest was finally empty . . .
or not.
Voices and laughter from the past echoed through the almost-tidy rooms. Photographs lined the walls and counters. Happy memories and a few regrets crowded into the spaces in our still-busy daily schedule.
Yes, the children had left home. But the nest was far from empty. God had answered our prayers. Rob and I still had a happy and stable marriage. The children were married to lovely Christian young people.
But to all parents approaching that stage of life, I would say, "Don't be afraid of the empty nest. It's not going to happen." Click To Tweet