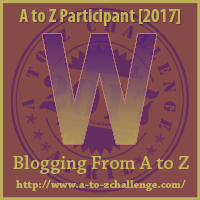 Disclosure: This post contains some affiliate links for your convenience. Click here to read my full disclosure policy.
One question that is asked over and over again in blogging circles is, "What is the ideal word-count for a blog post?"
Now that we've reached W in the A to Z challenge, it seems a good time to look further at this question. So
W is for Watch your Word-count.
Some will tell you readers have limited time to read, so short is best. They will tell you that you're more likely to reach more people and gain more comments, if you stick to short punchy posts.
Others say readers don't spend time reading longer posts, they will only skim the text, but if they spot interesting information, they will stop to read. Therefore the longer posts are better. Certainly the Search Engines are more likely to spot keywords in longer posts and, it is often argued, the longer the better from the SEO point of view.
When I first started blogging it was an accepted fact that the ideal word-count was around 500 words. Why? Because readers could see the post on their screen without needing to scroll down. That of course is no longer the situation, what with the smaller laptop screens and even smaller tablets.
Add to this the estimated 51% of readers who do most of their internet reading on their mobile phones. read more