SYW: For your main meal do you prefer sweet and sour, hot and spicy, spicy and sweet, bitter, salty, bland or other?
It depends on the mood I'm in, but generally I prefer salty. I also enjoy a mild curry and rice, but it must be mild! I definitely don't go for sweet when it comes to my main meal.
SYW: Where do you hide junk when people come over?
LOL! How do you know I hide junk?
Mostly I grab it by the armful and dump it on my bed! That is if I have a few minutes warning. If they just arrive at the door, I draw their attention to it by saying, "Excuse the mess! You caught me in the middle of something." (Of course the "something" may have been a card I was working on the night before and left to continue the next day, but they don't need to know that!)
SYW: What daily habit would you like to introduce to your life?
Getting up early each morning. I am SO not a morning person.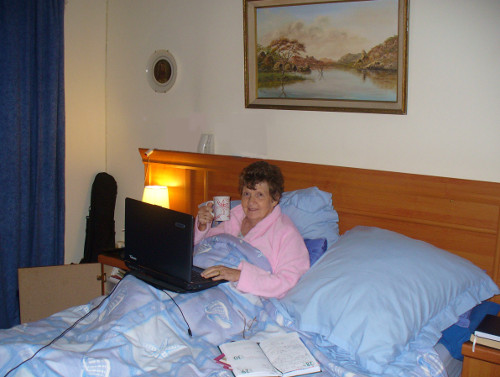 The advent of smart phones, laptops, and tablets hasn't helped either. I can do so much online before setting one toe out of the bed. I guess the answer is to leave them in another room, hi?
SYW: If you were to perform in the circus, what would you do?
Probably conduct the band. I am definitely not an acrobat or gymnast but have spent my life around choirs and singing groups of various sizes and age-groups. I once had a band of 14 school kids with an assortment of instruments who played on special occasions in our church. 
SYW: Optional Bonus question:
What are you grateful for from last week, and what are you looking forward to in the week coming up?
For last week? I'm grateful that, in spite of all sorts of hiccoughs at the beginning, our Happy Echoes choir of 30+ retired people put on a really good concert and brought a lot of joy to a large group of seniors at a church in the city center. I also received one gorgeous cutting die last Friday of a pirate ship. I'm open to any ideas of how to make a stunning greeting card using this. It's been fun "playing" with it and cutting it in various shades, but I must now get serious and produce something usable.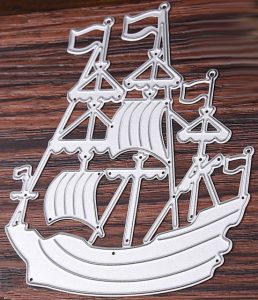 The week coming up? I'm hoping I'll get some more cutting dies from China in my post box. There are a number still outstanding. They take 4-8 weeks to come on the "slow boat from China" but I believe others have experienced a greater delay for us in South Africa. I prefer getting them one at a time, as I can work with it in the evenings and get some ideas before the next one arrives.
Now how about you?
What are you looking forward to in the week that lies ahead?