A change of habits.
I am changing my blogging habits for a while.
There's nothing as good as a change of routine, right?
I've signed up to participate in a blogging challenge with a difference. I came across it on Deb's World, and it sounds fun. It's called Share Your World and is headed up by Cee Neuner. She posts a few questions each week, and all participants need do is answer them. It's a cool way to get to know one another. The idea is to answer the questions without overthinking them and just have fun.  I'm looking forward to it. Feel free to join in by copying the questions and then write your answers in a new post linking back to Cee's original post.
I presume we then visit some of our fellow participants in the blogging challenge. That way we will get to know one another.
So here we go.
When you're alone at home, do you wear shoes, socks, slippers, or go barefoot?
I usually wear socks and shoes if the weather is cool, and slops (a.k.a. flip-flops) or go barefoot during the warmer weather.
What was your favorite food when you were a child?
Believe it or not, this was bread and gravy mushed together! We lived in what was then known as Rhodesia (now Zimbabwe). Every Sunday we had a roast dinner with delicious home-made gravy. On Monday when I came in from school, my parents would have some of the left-over cold meat with salad and I would have a thick slice of white bread totally swamped with thick gravy. Yummy! My mouth still waters at the thought of it.
Are you a listener or talker?
Definitely a talker. I am married to a listener. Ideal match! I can sit and listen when I need to, but I have to beware of taking over the conversation and talking too much.
Favorite thing to (pick one):  Photograph?  Write? Or Cook?
Most definitely not cook! I enjoy taking photographs but usually don't do anything with them so it's a bit of a pointless exercise. Whenever I  have the time (and often when I don't!) I  you'll find me at my desktop computer or my laptop writing books or blog posts. I really should do more with my photos as we live in a most beautiful area, 6 minutes walk from the beach. Here's the view at the bottom of our road.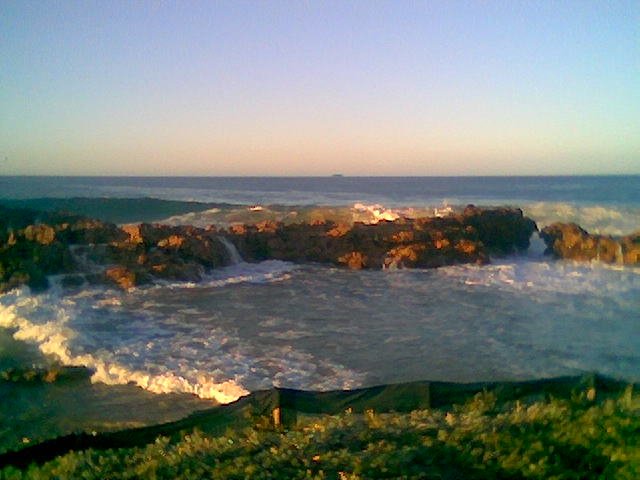 Optional Bonus question
What are you grateful for from last week, and what are you looking forward to in the week coming up? 
As a loyal South African I have to say the greatest thing that happened last week was it rained! We are in the midst of a horrific drought, and water restrictions are in progress throughout the land. Our dams are approaching the danger level, where the water will not be suitable for human consumption, and our gardens are dying because we're not allowed to water them with a hose  – nor can people fill up their swimming pools. So when it rained on and off for several days there was much rejoicing.  Sadly, and typically, very little fell in the catchment areas.
This week, I'm looking forward to a visit from a writing friend, Ruth Dell, and her husband Tony later today. They both grew up in Rhodesia and Tony and I went to the same school.They now live near Johannesburg and we are down at the coast.  So we don't see much of each other.
We will have lots to talk about. Ruth and I share common writing interests and so we  usually curl up on the settee and hold our own conversation while the men sit and talk sport and politics.  Ruth also does scrap-booking, ,and I make cards. So that opens another area of conversation.
Thank you to Cee for starting this initiative.
I'm going to see if I can persuade some of my S.African writer friends to join this fun blogging challenge as well.
If you are interested in joining this blogging challenge –
just copy/paste the above questions into a new post and answer them. Then put the link for your post here: Cee's Challenge.