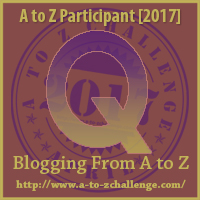 Disclosure: This post contains some affiliate links for your convenience. Click here to read my full disclosure policy.
Hi All.
I'm back with the next post on the A to Z Challenge, still looking at the theme, Build a Better Blog.  And today we're reached one of the tough letters – Q:
But here we go with
Q is for Quest for Quality.
First a couple of questions.
Are people reading your blog?

Are you just wasting your time?
Here are a number of ways that will help you turn out quality posts that will persuade your readers to keep visiting and reading as you Build a Better Blog.
Start each post by remembering who is going to read it.

That will save you oodles of words that lead you off track and cause you to rewrite the entire post.
Don't spend ages telling fellow bloggers about your new baby. They may love babies. They probably do. But that's not why they're reading your post. They want to learn how to use their blog to promote their writing.
If your blog is for members of the family, don't describe the latest book you've read. They'd like to know more about the new baby.
Choose your topic and working title before you begin to write.

As the words pour through your fingers, you may find you are getting carried away on one aspect of the topic. That's fine. You've found your passion (see next point), so edit your title and concentrate on turning out a quality post on your refined topic.
Write about a topic that is really important to you.
If you're writing for your family, gush about the new baby, rave about the youngster who has just become a teenager, share incredible memories of the family member who just passed away.
If you're a writer, or a crafter, show that your topic really matters to you. Make suggestions your reader might like to try out. Post quality patterns, recipes or designs that they can follow.
Whatever your interests, write in such a way your readers will be caught up in what you have to say.
Grab your readers' attention.

Don't start your post with "Our next post is . . . " Think of a catchy sentence or illustration.
Perhaps post a photo of the new baby at the top, if it's a family blog.
Or if you're a writer, post a picture of you doing cartwheels in front of your newly-delivered box of new books. Okay, maybe scratch that one, but you get the idea. Give your readers a reason to read on.
How can you produce a unique blog when there are so many out there? #atozchallenge
Click To Tweet
Aim to be unique.

Yours will obviously not be the only family blog, or the only alphabetical list on blogging. It simply means you have quality material, illustrations, quotes or infographics that others don't have.
There will be other posts making similar points, or using the same illustration, but use your own voice and the result will be yours and yours alone.
Don't be afraid of linking to other quality blog posts.

Sometimes there is a lot more information out there which might benefit your reader—but your post is long enough. Have enough faith in your own blog-appeal to give links to other sites that add to your topic.
Always set your link to open in a new page. That way your reader won't get lost. I'll be leaving you a link at the end of this post, but I don't want to lose you yet. So read on, and have patience!

Check your images.

Are they all legal? If you've used a family photo, do you have the owner's permission?
If you've used an image off the web, are you sure you're allowed to use it? Have you given the correct credits? Don't slip up on this one. It can be an extremely costly mistake. Re-read the post on images earlier in this series.

Are you finished?

Check the appearance of your final post. Is it tidy and well-formatted? Does it contain quality content? Is it attractive?
Are the images large enough to see without squinting, but small enough to download quickly? Are all the headers the same style?

Become a perfectionist. 

I am often amazed when I read a traditionally-published book put out by a big publishing house, and I spot an error. Why am I amazed? Because having been there I know all the hoops the book has to get through before final publication, the number of professionals who read and edit that book—and yet mistakes creep in.
If that happens with the professionals, it's sure to happen at times with your blog, but do all you can to turn our professional, quality posts.
Cultivate a few friends who will contact you immediately if they spot a typo or problem with your latest post, and don't forget to thank them! A friend who is reading this series noticed an error in the table that gives the links to all the previous posts. She immediately contacted me on Skype. I had the H for Hashtag going to the wrong page! And what's worse, I'd copied and pasted it to the next few posts. Oops! Was I pleased she contacted me? You betcha.
A few tips to help:
* Read it aloud before you publish. I read to my husband and I often pick up errors that way. Read to your teddy or the dog. It's not the audience that spots the mistakes, it's you.
* Keep your spellchecker on and look at all the suggestions. Some will be daft, but some may be correct. (Make sure it's set for the English of your choice. You may have noticed the occasional strange spelling on these blogs. They're not typos. They're British English. Unless of course they're typos. 🙄
* See if you can find a good proofreader.
What do you do if you spot a mistake on your blog that's just published? #atozchallenge Click To Tweet
Usually when writing blog posts there is not time to run them through a critique group. But if you can find someone who makes a point of reading your posts as soon as (s)he knows it's online and lets you know about any errors, that can be a great help.
I have a daughter-in-law who does this for me. I'm sure that's one of the many reasons why the Lord brought her into our family! He knew I would need someone capable of spotting the most picky errors! I get text messages with such loving content as  Para 3 line 4—spelling!
* Edit fast! And of course that's the beauty of blog posts. You can get online real fast and correct your mistake before too many people have read it. If I'm out of the house when I get a message I get onto my site with my smartphone and correct the mistake.
Do you want more ideas?
Social Media Examiner is a fabulous blog which covers just about any topic you can think of in connection with Social Media. She has ONE POST going right through the alphabet. 26 points—in one post. Brilliant.

Do you have any tips to add to this post?
I'd love to hear from you in the comment section below.
If you leave a link with your comment, I will pay you a return visit.
Sign up to get my monthly Write to Inspire News (approximately! Never more often. )
 FURTHER POSTS TO READ:
Creative Content

Dogged Determination

Eager Enthusiasm

Fact or Fiction

Go for Google

Harnessing Hashtags

Interesting Images

K for Kindle and KDP

L is for Live and Learn

M is for Marketing Methods

N is for Nuggets and News

O is for Ongoing Opportunities

P is for Plan with Purpose
Special offer on Kindle Publishing Made Easy, a hands-on course. Expires end April. #atozchallenge
Click To Tweet