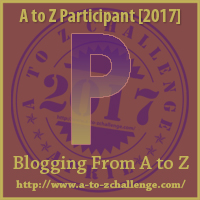 Welcome to the next letter in the A to Z Blogging Challenge.
We've now reached P as we work through the alphabet so . . .
P is Planning with Purpose. 
Hopefully by now you have a clear picture of the purpose of your blog. Briefly, to remind you of this, answer these questions:
Why have I started this blog?
Who do I hope is reading the blog?
What do I hope to achieve through this blog?
When (how often) am I posting to the blog? (Remember the importance of writing on a regular basis, even if it's only once a month.)
How much time do I have to spend on writing the posts for the blog?
That done, you now remember your purpose for the blog.
So how can we plan to see that we're meeting these criteria?
There is a popular saying often attributed to Benjamin Franklin, the father of time management,
"Failing to plan is planning to fail."
So don't plan to have your blog fail! Here are some tips on how to keep it moving forward so you can build a better blog—no matter its purpose.
Plan in advance.




Think ahead so that you know what's coming up in future blogs and you can be thinking of ideas during the days leading up to the post. You can do this in many different ways.

Draw up a list of titles several months ahead.
Write a month or two's posts in advance.
If you're a writer or you are doing a series on a holiday or special event, list your titles (or topics) for the entire series.
Try doing a 26-part alphabetical series on your topic, such as this. I know in advance which letter I'm going to write about, so I can give it some thought before sitting down to write.

Plan a regular schedule . . .
. . . and stick to it. Google™ likes you to post twice a week (or more if you can). If this is possible, go for it. If it's not, rather post once a week regularly, than promise to post twice a week and fail to keep up.
Create a post calendar.

You can use Google Calendar, or a spreadsheet, or make notes on a white board (as I do). There are also plenty of free schemes available if you look for them on Google™. If, like me, you have more than one blog, this is even more important.
If you're on WordPress, install either the Editorial Calendar, or WP Scheduled Posts Options. The Editorial Calendar gives you a calendar which you can easily open from your dashboard. You can drag and drop your posts to other days, set them as scheduled, draft, or pending review. WP Scheduled Posts Options gives a nice drop-down menu for all scheduled posts from the top bar. Either of these will enable you to schedule your posts to publish when you wish.

Stay focused on your key points.

Address the issues you know your reader is interested in.
Never lose site of those points you listed when you answered the questions at the top of this post, the reasons why you're writing this blog.
Watch your stats. Every couple of months, take a look at your posts and see which ones have raised the most responses and visits.
Don't be too hung up on comments, unless they are an integral part of your post. Many will visit and put your suggestions into action without leaving a comment.Friendly note on this, if you're reading a post, please do leave a comment. Even a "Thanks for this" helps improve the ranking of the blog on Google™ and encourages the blogger. If you leave a return link on my site I will visit you back—promise. Many bloggers will do the same.
Carry a notebook with you.

Y

ou never know when new ideas will strike. So be like the Boy Scouts and always be prepared.
I often get my best ideas in Church. (Sorry, Pastor!) I take notes during the sermon to help me concentrate, and if something nudges me saying "Blog on this!" or "That's good devotional material," I immediately draw an opening square bracket in my notes.

[

I scribble the thoughts I have had and then close the brackets

]

and return to the sermon, hopefully without having missed too much.
I also get bright ideas in the shower. I haven't yet found a way to take my notebook in there, but that will be a clue to hurry up and finish so I can get it down before it disappears from my wet mind.

Anticipate "life" getting in the way.

The best way to do this is to work in advance, scheduling posts to appear on the appropriate days. I normally do this, using the WP Scheduled Posts plugin, but I have been in the situation where, due to a whole lot of unforeseen "life happenings," it hasn't been possible and I've run out of posts. I then do the best thing I can do and leave a note (It would be rude not to keep my date with you, right?)

Warning:

 

I once scheduled a whole lot of posts on my site, complete with the dates they should post, and some rough notes of what I intended to cover those days. All worked well until I had a health emergency which landed me in hospital far from my computer. The last thing in my mind was my blog, and I conveniently forgot about it for nearly two weeks.

When I returned, you know what had happened. My trusty pc had continued to publish the posts on the day I had them scheduled. I never heard from anyone about the very rough notes they had seen on my blog, but I'm sure my stats dropped faster than the South African stock exchange when the president of the country fired the minister of finance. I only schedule the posts that are ready to go live. I save them as drafts until I'm happy with them.

Blog along a theme for a limited time.

Blogging through the alphabet is not only for the annual A to Z Challenge. It is an excellent way to run with a series, and will stretch you to think out of the box at times. (e.g. When you hit the Q,X,Y,Zs!)
Some bloggers choose a theme for different days, e.g. Monday Musings, Thursday Thoughts, etc.

Keep an Idea File.

I've already touched on that in an earlier post. Create a safe place.
This could be on your computer (I have it on the desktop of my computer, called "Blog Ideas" as if I give it a title I invariably forget what I called it and where I filed it, and I waste a ridiculous amount of time trying to find the ideas that were supposed to save me time!)
You could also pin it to a notice board or keep it in a drawer. As long as you'll remember where it is, and it's easy to add to.
Add a note saving place to your phone, so it you get a bright idea when you're out nd for some reason don't have your notebook, you can quickly tap it out on your phone. Of course you will transfer to your list as soon as you get home.
When your record your notes, don't just write the headline. I guarantee when you want to use it, you'll have forgotten what you wanted to say about the topic! Scribble (fast-type) the main points you think of.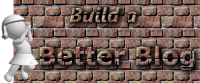 There are probably plenty more ideas, but these should be enough to start you thinking. Please share in the comment section how you plan your forthcoming blog posts.
Have a great day, and come back tomorrow for Q is for Quest for Quality as we Build a Better Blog.
 FURTHER POSTS TO READ:
Creative Content
Dogged Determination
Eager Enthusiasm

Fact or Fiction
Go for Google
Harnessing Hashtags
Interesting Images

Kindle and KDP
Live and Learn
Marketing Methods
Nuggets and News
Ongoing Opportunities
Special offer on Kindle Publishing Made Easy, a hands-on course. Expires end April. #atozchallenge
Click To Tweet