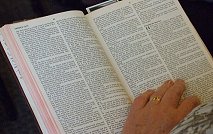 Travelling along the coast of the Western Cape, we chose to drive through a high mountain pass instead of the conventional road through the valley. The drive was tricky and took more time, yet the view was spectacular.
Life has many mountains and valleys. Sometimes we need to stick to the safe ways, but other times it is good to take the more difficult route. At times it'll be tough, and we'll wonder why we chose this route. But other times the view is spectacular. We meet people we wouldn't have met, experience situations we wouldn't have even known about, and break out of dark tunnels into vistas of brilliant sunshine.
Is there a mountain facing you right now? Speak to the Lord about whether you should take the easy way, or rather accept the challenge and tunnel through.
PRAYER: Lord, help me choose your way in every situation. Amen.
You alone are God! Only you are a mighty rock. You are my strong fortress, and you set me free. You make my feet run as fast as those of a deer, and you help me stand on the mountains.