LATER : On arrival at Dulles Airport, Washington D.C., Krieshka, the Finnish lass, stayed to help me. I had no problem with Immigration, and smiled in appreciation at the official who announced, "Welcome to America, Mrs. Corder. Enjoy your stay."
I knew that CynD and Jim Smith would be waiting for me in the arrivals hall. They were looking for a woman on her own, dressed in navy and green. Krieshka and I walked out together, and I was dressed completely in navy.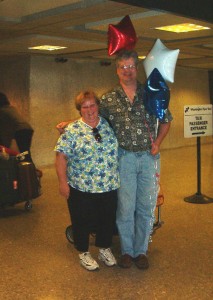 Facing me was a sea of excited faces, with five couples holding balloons. I spotted one short lady with a tall man holding three helium-filled balloons. I walked over to them and asked what must be one of the dumbest questions on record.
"Are you waiting for someone?" It was indeed them, and we greeted each other like life-long friends.
CynD told how one lady came out alone wearing navy and green and Jim was convinced this was me. However CynD responded, "No, Shirl wouldn't wear shoes like that to travel!" She was right, but how amazing that she knew me so well. We had never met and had certainly never discussed shoes!
It took about an hour to get to their home. The roads near the airport were similar to Johannesburg: wide freeways with many lanes. It was strange to travel on the right hand side of the road, and I was amazed to see so many vehicles different to those in South Africa. As we reached the suburbs I marvelled at the magnificent trees decked in their autumn shades. Autumn in South Africa was nothing compared to this. Yet the sky over Washington D.C. was as blue as the day I left Cape Town and it was hard to believe I was so far from Rob.
The Smith family were warm and friendly and quickly made me feel at home, cross-questioning me about life in South Africa. They ordered pizza for supper, to my astonishment, on the Internet. How wonderful to have Internet on all day. In South Africa we have limited access. I so enjoyed my first American pizza. It was really the same as a South African one although much larger. We probably learned how to make them from the Americans in the first place!
I e-mailed Rob to tell him I had arrived safely. CynD suggested I phone him, but I had a feeling he didn't want to hear from me at 02:00 in the morning South African time!
It was nearly 22:00 by the time I clambered into a comfortable double bed. How blissful to put my head down after one of the most exciting—and longest—days of my life. It was 47 hours since I got out of my bed at home.
I put the bedside light out, closed my eyes, then jumped as a light across the room pinged on. Startled, I clambered out of bed and tried to find the switch. Eventually I found a remote and after I had pressed all the buttons, the light went out. I climbed back into bed, sighed, and put out the light once more. I rested my head on the pillow. Ping!
I crawled from the bed once more, retrieved the remote and again punched all the buttons until the light went out. I wondered if it was perhaps motion sensitive, although I couldn't think why anyone would want a motion detector in the bedroom. By now I was extremely jet-lagged and feeling quite giggly. I eased myself slowly back into bed, lowered my head to the pillow, and closed my eyes, trying not to move the mattress. I put out the light, and started to dose. Ping!
Eventually I had to ask for help. Apparently the neighbour has a similar remote for his TV or garage, because the light does this quite often. CynD forgot to warn me. The whole event gave us a time of hilarity and I fell into bed drunk from exhaustion.
SATURDAY 4th I awoke alert and ready to leap out of bed (something for which I am definitely not renowned) then looked at my watch. It was 04:00. Washington D.C.is six hours behind South African time, and I realised my jet-lagged body-clock thought it was 10:00. Eventually I went back to sleep and slept soundly until 08:00.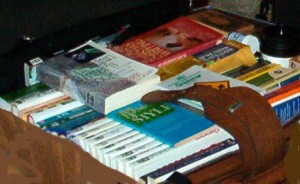 After brunch, CynD and I sat on the floor and went through a box of over sixty writing books and magazines that Geni (pronounced Jenny) White's writing group in Oregon had collected for me.
They were to remain with CynD until I returned there prior to leaving America. There were many titles I had longed to own. This was such an awesome gift as writing books and magazines are almost non-existent in South Africa.
CynD promised to try and find me a suitcase while I was away. I was allowed two cases of 32 kgs for my trans-Atlantic flight, and these books came to exactly 32 kgs. Of course, when Geni asked me how many books I could manage and I said I could take two cases of 32 kgs each it never occurred to me I might end up getting 32 kgs of books!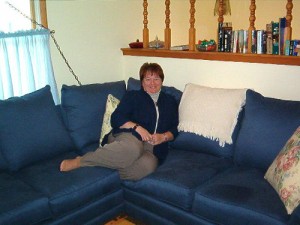 After brunch and sorting out my case, we set off on a two-hour drive to Robin Pauley's home in Baltimore. Robin, also a Christian stamper, was the first person I ever "talked" to on the Internet. She is a Presbyterian church secretary, and my husband is a Presby minister, so somehow that had caused a bond to form, and we had become firm cyber friends. As soon as I got out of the car we hugged each other and tears poured down Robin's cheeks.
The three of us manhandled my stuff into the house and up the stairs. I was put in Robin's stamping room, which was so full of wonderful and tempting things. How I wished I had more time.
We were joined by another cyber friend, Linda, and the four of us spent a wonderful evening chatting and stamping.
SUNDAY 5th D-day no. 2! Morning came too soon. Robin and I went to adult Sunday School, a new experience for me. In South Africa, Sunday School is for the children, while the adults attend a worship service. We then went on to a traditional Presby service. This brought back many memories, and a couple of times during the service both Robin and I had tears trickling down our cheeks. It was so incredible, standing worshiping beside someone who's become so special to me through the years, yet I never expected to meet.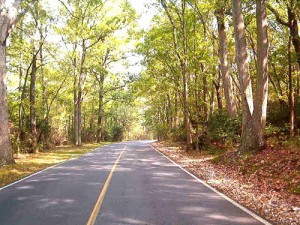 After lunch, Geni arrived in a hired car to collect me, after flying in from Oregon on the west coast.
The trees lining the road into the country stood tall and erect, clothed in every conceivable shade of orange, brown, pink and red. After driving for a couple of hours we turned off the main road and onto a winding, tree-lined avenue. The sun filtered between the leaves, creating dappled patterns on the road before us.
We came to a beautiful sign set in brick – "Sandy Cove Christian Conference Centre."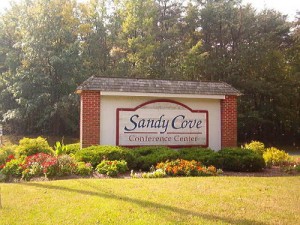 Seventy-eight hours since setting out on my travels, I had finally arrived at my destination.
I wondered why the Lord had brought me here, for it had to be Him. There was no way things could have come together they way they did, apart from it being part of His plan for my life. I wondered what lay ahead. So many people had high expectations of me that it was scary.
I took a deep breath and reminded myself of my main goals for this time: to find out what genre the Lord wanted me to concentrate on; and to sit in the background and learn.