THURSDAY OCTOBER 2nd, 2003 D-Day! The day finally arrived. After an incredible assortment of miracles, big and small, I was on my way to the Sandy Cove Christian Writers' Conference at Chesapeake Bay, Maryland, in the United States of America.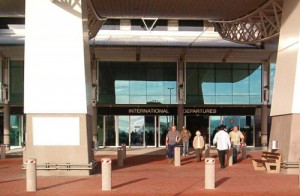 As Rob turned the car down the off-ramp to the Cape Town International airport I surveyed Cape Town's majestic Table Mountain towering up to a brilliant blue African sky, and I felt panic. Until that point, I had been too busy to consider the implications of this adventure. I had never travelled any distance alone, never mind half way across the globe. What on earth was I doing?
As I walked through the electronic security gate to book in my luggage, I was selected for a random search. The man went through every piece of carefully packed luggage, leaving me to cram everything back.
Because I didn't qualify for an American visa, I had to travel with two passports: a South African passport for the first and final legs of the round trip, and a British passport for the American part. My travel agent had warned me not to use the British passport in South Africa as I might not be allowed back into the country. To my concern, the South African official would not accept the S.A. passport as it lacked a visa, and insisted on stamping my exit on the British passport. I hoped this would not give me problems on my return.
Because my journey involved a Trans-Atlantic flight, my travel allocation was two suitcases of 32 kgs (70.5 lbs) each. However I only took one case weighing 23 kgs, plus a smaller one for the cabin.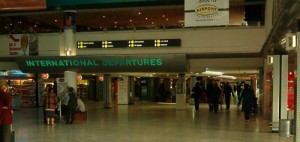 After booking in I was able to return to Rob and we enjoyed a last cup of coffee together before I said a nervous goodbye and walked into the unknown. The flight was called three hours before departure. The officials did another full body and luggage search of every passenger, including asking us to remove our shoes, jackets and moon bags.
I found a good seat near the boarding gate and tried to read. Two people in uniform started calling, without mikes, that they wanted "everyone over there in a queue". There were hundreds of people milling around, but where was "over there"? No-one seemed to know. We eventually formed a sort of queue, but no one, including those organising the chaos, knew which was the beginning or the end.
The officials solved the problem by setting up desks across the lounge from the centre of the queue. Every piece of hand luggage was again searched, followed by another body search, before we finally lined up to board the aircraft. They certainly didn't want the plane hi-jacked, for which I was grateful.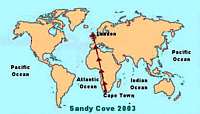 Flight no. 1: Cape Town to London. It was a thrill to look through the transparent docking tunnel and see Rob waving to me from the public lounge. We left Cape Town on time at 18:20. After serving us with an impressive hot dinner, the attendants turned the lights down for the night.
I watched a movie on the small television screen on the back of the seat in front of me. One of the fifteen channels gave a constant status report of the plane: where it was, outside temperature, times at place of departure and arrival, temperature at destination, etc.
The seat next to me was empty, so I pushed the arm-rest up and curled over two seats. True to form, I didn't sleep at all, despite taking medication on doctor's orders.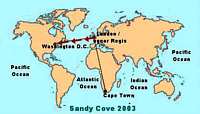 FRIDAY 3rd At 04:00 all those who slept, which seemed to be everyone but me, awoke to a hot cooked breakfast. The plane landed with a bump at Heathrow Airport at 06:00 local time.
After walking for what seemed to be miles along corridors and through tunnels, I arrived at the departure section, along with thousands of others en route from various places and heading for different destinations.
We were all fully searched again, shoes included. I appreciated their concern for our safety, but resolved to wear shoes that came off and on easily for the return journey. At the security gate, officials selected passengers at random for another full-body frisk. Naturally I was chosen. This was becoming a habit. I obviously looked suspicious.
Flight no. 2: London to Washington DC. The next plane took off promptly at 10:55 and it was another pleasant trip. British Airways fed us well with a hot dinner and two light meals. I sat next to a young Finnish girl, Krieshka, and a man who had flown in from Vietnam that morning. I watched another movie then made a fruitless attempt to sleep. How I envied all the sleepers around me.
As I watched the little plane on the screen approach American soil, I thought about CynD and Jim Smith, who were meeting me at Dulles Airport. CynD was a cyber friend from my Christian Stamping list. She refused to send me a photo but told me to "look for the balloons!" She described herself as short and Jim as tall. I told her I'd be wearing a green blouse and a navy slack suit, but I hadn't had time to change my blouse at Heathrow. Would she recognise me from the photo I sent?
I completed all the forms and felt nervous about the question, "Do you have an American visa?"
I answered, "No."
Next question: "On what grounds do you expect entry into the United States of America?"
Answer: "British Passport".
I was relieved to find that Tony Blair and George Bush hadn't fallen out since I last watched the news! The pleasant official smiled and welcomed me in a broad American accent: "Welcome to the United States, Mrs. Corder. Enjoy your stay."