In today's post I decided to walk you through the various steps that transformed my manuscript, Rise and Soar, into the book, Strength Renewed. Before I embarked on this journey, I had no idea of all that would be involved.
 GLOBAL EDIT:
My baby, still known as Rise and Soar, was out of my protective custody for some weeks before I received a global edit from my acquisitions editor, Vicki Crumpton. I took one look at all the red and thought, "That's it. She hated it!" Then I started to read her comments and found many positive remarks and some smiley faces along with many constructive suggestions.
I really enjoyed working through the manuscript. Vicki had spotted things that had escaped the eyes of my critique partners, proofreaders, and the professional editor–not to mention the 15 edits I had done. She also pointed out that at one point my touch of humour was missing. That was so helpful.
NEW LOOK:
Rather than trying to inject humour into the dismal situations described, I removed three of the devotions from the book and replaced them with three fresh meditations of a more upbeat nature. Although these hadn't been seen by any of my critique partners or proof readers, I felt confident that Vicki would spot anything that needed changing. The new meditations lifted the tone of the book and I was happy with the manuscript's new content.
STANDARD FORMATTING:
As soon as Vicki was happy with the book, the design department applied standard formatting and handed the manuscript over to a project editor. Now it was her turn to edit the manuscript and get back to me with some further suggestions.
GALLEY PROOFS:
After the project editor had finished editing the manuscript, the copyedited work was sent to a proofreader, and I received a set of "galley proofs."  I was asked to check these carefully, as this was my best opportunity to make any necessary additions.
TYPESETTING & FORMATTING:
Revell now typeset and formatted the pages. The "page proofs" were corrected, and the revised manuscript received another round of proofreading.
ONE LAST CHANCE:
I received the pages, now set out in book format, for a final review. This time, however, I was told that only minor changes could be made, as it was now difficult and expensive to make alterations. I only found two issues that needed to be corrected, both errors that had crept in during the process of turning the manuscript into book format.
FINAL EDITORIAL CHECK:  
The book received one "final editorial check" and corrections were made. At this point I couldn't help but wonder how any books ever reached the hands of readers with any error at all. Yet I knew only too well it happened. I prayed it wouldn't occur in the case of this book.
COVER DESIGN:
During this process, I received an email from an editor in the design department. The time had come to give my book a cover. She sent me an exercise to work through in an attempt to find a cover that I would be happy with and that would fit the Revell requirements. I was thrilled to have the professional skills of this department, but at the same time I felt a twinge of anxiety. What if I didn't like the cover? I knew a couple of authors who, at this stage, struggled to accept the recommended cover design.
I wanted a nature-based, photographic-style cover, and of course it needed a picture of an eagle. Rise and Soar received its name from the Scripture that encouraged me throughout my sojourn in the cancer valley:
"Those who wait upon the Lord shall renew their strength. They shall mount up on wings as eagles." Isaiah 40:31 KJV
All my suggestions included an expanse of sky with an eagle soaring high, and some included a person looking skyward. I filled out the exercise and submitted it to the design department.
NEW NAME:
I had known right from the start that Rise and Soar was only a working title. One day, the book would get a new name. When the time came, I was apprehensive. What if I didn't like it? After all, what could be better than Rise and Soar? Toward the end of the formatting process, I received an email from another editor, giving me the suggested name. She made it clear that this was open to negotiation, but asked my opinion of the title, Strength Renewed.
I loved it. They had maintained the words of my chosen Scripture, and yes–the suggested title summed up my hope for the book: that those who read it would have their strength renewed. I wrote to express my enthusiasm, and my baby had a new name. Strength Renewed, Meditations for Your Journey through Breast Cancer.
FINAL APPEARANCE: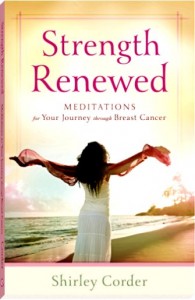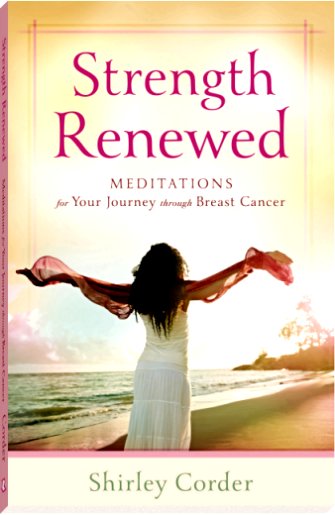 When the editor sent me a jpeg copy of their suggested cover for the book, I opened the file with some trepidation. As the picture filled my screen, I gasped in delight. They had a photographic-style background of the waves of the ocean gently lapping on a pristine beach.
There was no eagle.
Instead, a young woman stood, her back to the camera, and her arms outstretched. She looked as if she was about to rise and soar, as if on the wings of an eagle. Oh yes!
Thank you Revell! 
Without hesitation I wrote back and accepted their proposed cover.
PRINTING: 
And now, my baby is no longer a baby. It has completed its metamorphosis from a manuscript to a book, and it is now at the printer. I received an "advanced reading copy" that let me see what it looked like. How wonderful to hold a real book in my hands. It contained a warning that this was created before the final proofs, and may contain errors–but I am delighted with its appearance. What a beautiful book it has turned into. Now I eagerly await the time I receive my first finished copy from Revell.
Added later:
The book  is now available in print or ebook format, at any of the main electronic publishers., or can be ordered through bookstores world-wide.  To get your copy on its way to you within minutes, click on the link below.