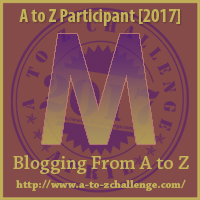 Disclosure: This post contains some affiliate links for your convenience. Click here to read my full disclosure policy.
Today we're moving on with our ways to build a better blog, and we've reached the letter M. So here we go: .
M is for Marketing Methods.
"But surely," some of you may be saying, "I don't need to market my writing? This is a blog, not a book!"
Well,  it may be "only" a blog, but it's still taken you time to think about the topic and write the text. Perhaps you've spent time, maybe a long time, searching for suitable images. Why have you gone to all this bother, if you don't want anyone to read what you've written? So  yes, of course you need to market your blog. And, you writers  out there, most of these ideas will also help you when you're marketing your books. So let's get started.
Target your blog to a specific audience.
We said more about this on A is for Awareness Alert. You must have in mind who you are writing for and their needs. You can't write for everyone. So, for example, this series is being addressed to people who enjoy blogging and want to make the most of their blog. A couple of the blogs I'm visiting on a regular basis are geared for the mid-lifers and beyond. Select who is likely to read your material, and then target them so they keep coming.
Come up with a catchy title for your blog.
Now if you're a writer,  you may be stuck with your name as I am: shirleycorder.com. But I titled the website Write to Inspire and keep using that title when I speak to people. Nevertheless, the more people get to know your name, or the name of  your blog, the more they'll want to see what you have to say. You don't need to consciously keep marketing your blog, indeed you shouldn't. But make it as appealing as you can.
Verify your facts. If you're saying something outside your own scope of experience, provide links so the reader can confirm it for himself. If you're not certain that something will work, say so! All you need say is, "I don't have any personal experience of this, but XXX says . . . ". Then your reader will trust you not to lead him astray. This won't directly help your marketing strategy, but it will convince your reader you're genuine, and in this world of fraud everyone enjoys an honest person!
You need to build a platform.
Start as soon as you can to create connections, contacts, and readers. Tell people about your blog on Facebook and Twitter. Talk to all your friends and ask them to spread the word. Visit other people's blogs and make sure you leave a comment, and a return address. (Go to the previous post and read How to leave a live signature link.) You don't need to be on the challenge to leave a return link. Most people prefer this so they can pay you a return visit.
Simplify your reader's experience.
I really don't enjoy leaving comments on blogs where I need a maths degree to leave a comment. Make it easy for your visitors to leave a comment. I appreciate the need for good security, but don't make it as difficult as breaking into the bank after hours!
If you want to leave a comment after this post (and I hope you do) you simply type in your comment, and leave your name, email address (which will remain private) and website. If it's the first time you've posted, your comment will be held back until I've had a chance to read it and clear it. (This may take several hours, as I live in South Africa. You may live in the States, or in Australia. So at the time you post your comment, I may be deep in the Land of Nod!) After your first post is approved, you're free to comment without moderation.
Don't avoid  conflict or disagreements.
I said I modify the first comment. If it happens to be one saying you didn't agree with a point I've made, I would still approve the message. We're diverse human beings. We don't all see things the same way. I will not permit foul language, blasphemy, or any type of "hate speech", but you're free to have a different opinion to me. I probably won't argue, I'll just thank you sincerely for giving up your time to visit and read my blog.
Look for areas that you would like to learn about, and perhaps diversify.
You can turn your blog into a book (See Blog a Book) and invite your readers to come along for the ride. For example, you could say you were planning to  turn these posts  into an e-book (See K is for Kindle) and if they would like to receive a free copy with a view to giving a review, they must please give you their email. This will give you names for any newsletter you plan to start as well as giving you some reviews.  (Just don't forget to send them their free copy of the book (which could be in pdf format) before your book goes live. By doing this, you are not only marketing your blog, you are marketing your book of the future.
A visit to another blog just reminded me that a newsletter is a great boost to your blog. Come back tomorrow as we look at N is for Nuggets of News.
Make it easy to share your blog on Social Media. 
You can't possibly keep up to date with all the Social Media sites. Choose a few, and follow them. But put a range of social media icons close to your blog post as others will follow different ones to you.
I personally love Facebook and the interaction it affords me with my readers.  I am selective of what I share, and I do not get drawn into arguments with people. I have created an author page (a.k.a.Fan Page) and always post the URL for my latest blog post with an invitation for my FB readers to read my blog post too.
I do not spend a lot of time on Twitter, but I do use the plugin "Better Click to Tweet" on my WordPress blog. I'm not sure if Blogger has the same facility, but it's quite possible it does. I find this encourages people to give a quick click on a banner – resulting in a tweet going off into the cyber world.
I use the Better Click to Tweet plugin to simplify sending tweets from my blog.
Click To Tweet
During this challenge, I've heard from two different people that it pays to promote your blog post on G+ as soon as it goes live. I don't know if this is true, but it certainly can't do any harm. So guess what I will be doing as soon as I hit the "live" button!
Choose your keywords with care.
Don't just use broad words like "Book" or "Review". Those keywords will get lost in the noise of cyber space. Make the keywords more specific, like "Book review of new romantic suspense novels." That is more likely to get attention. Most people won't use such a long term in their search, but if they use several of those words you have a good chance of getting your blog noticed. Also, when you select your primary keyword, make sure you use it in your title, as well as scattered throughout the post. Avoid, however, using it on a monotonous obvious way. Google will notice and penalise you for it.
Show your reader you're in for the long haul.
This is especially important if you're doing something like this A to Z Challenge.Your readers will want to know what's coming next. Should they stick around or look for fresh pastures? You may not plan to continue blogging on a daily basis (few can) but let them know in advance what you plan to do, so they are not left hanging. With so many blogs out there, they're not going to wait around for you.
Believe your blog is worth reading.
If you believe it is, you'll concentrate on making it the most interesting you can. Believe you are writing something that will benefit others, and that will give you a reason for doing your very best and for marketing it to the public.
This is probably the most important tip for success. Love your blog–and love your readers. They'll soon respond to the warmth they sense coming from your blog and you will find your blog's outreach growing. Without really trying, you're successfully marketing your blog.
 FURTHER POSTS TO READ:
Dogged Determination
Eager Enthusiasm
Fact or Fiction
Go for Google

Harnessing Hashtags
Interesting Images
K for Kindle and KDP
L is for Live and Learn

How about you?
What do you find the most difficult or challenging about marketing your blog? Do you think you should do this deliberately, or just let it take its chances on the big wide world spider-web we call the Internet?
Special offer on Kindle Publishing Made Easy, a hands-on course. Expires end April.
Click To Tweet