3rd March contd: 5 p.m.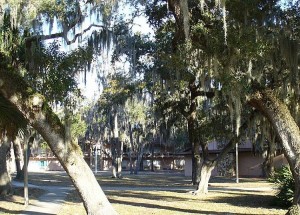 Lake Yale Conference centre is beautiful. It reminds me of Resthaven, a conference centre we used to frequent in Rhodesia many years ago, with buildings scattered amongst the trees.
The meeting places are luxurious and well-equipped with a beautiful auditorium. The centre is on the border of a huge lake which I hope to get closer to today – although you have to watch out for the alligators!
Everyone's very friendly. It was great to meet Yvonne Ortega (crit partner for 7 years). We not only recognized each other from across the parking lot, we hit it off straight away. In view of not having Marion for company, I'm especially grateful that Yvonne is here.
.
Yvonne has given me about 40 writing tapes to bring back. YIKES! Not quite on the scale of the 32 kgs of books I brought back from Sandy Cove a few years ago, but still a challenge. Yet I'm thrilled as we don't have any teaching opportunities in S.Africa outside of material we bring in from the USA.
I've taken them all out their cases and lined my big case with them. I'll be ditching all my paper work to lighten my cases for the return trip. This is being written at a pace, way too early for my liking. I now have to shower and get on my running shoes for the rest of the day. It's freezing here by the way as North America had a heavy snow fall day before yesterday. So although we don't have snow, we have the breeze off the snow. Brrr.
6:00 pm. Well, great. I feel as if I've failed already.
Before leaving South Africa, I selected four possible editors to preview my proposal for Rise and Soar, my book of meditations for those in the cancer valley. I intended to see that one of the four most promising editors got my manuscript before the start of the conference, and I'd make appointments to see the other three during the conference.
I would really have loved Vicki Crumpton, the acquisition editor for Revell/Baker to see the proposal, but I knew she wouldn't be interested. Revell had just signed with my friend and critique partner, Yvonne Ortega, for the second edition of her book, Hope for the Journey through Breast Cancer. So I knew Revell wouldn't be interested in my book as the two were the same genre and address the same market. So I had four personally addressed letters, attached to book proposals, of which one had to go into the box of my choice. I also had a blank letter that I could fill in if necessary.
Imagine my disappointment when I was standing in the foyer, trying to decide which box to put it into. A sweet lady on duty took one look at my indecision, and plucked the top sample from my hands. She tossed it into a box with the cheery assurance that "this way it will get to the right person." I groaned as I realised, not only had I taken the one with the blank letter, she'd put it into the box for the committee to decide. I lacked the confidence to chase after her and ask for it back, so returned to my room, fighting tears. I've just spent time in prayer, but I feel as if I've failed already, and the conference hasn't even begun.