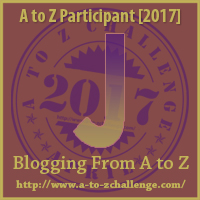 We're still busy with the A to Z Challenge, following the theme, Build a Better Blog. Today, we've reached the letter J and so I thought we'd look at the
Joys of Journaling.
I used to think a journal was a daily account of everything I had done during the day. This meant several things, none of them good.
I had to write it at night so I knew what had happened during the day.
I had to list everything relevant that had happened and some days that took a long time.
I had to find time to do both.
I ran out of enthusiasm . . . fast!
I gave up.Then I discovered the world of blogging, and I realised I could journal while blogging. So here are some suggestions of how to Build a Better Blog by journaling.
You can write a personal journal in the form of a blog.

Until recently, I used to think this was the most common purpose for a blog. That each day, at some point, you jotted down some of the highlights or anticipation of the day. And many people do this, not even realising they're actually writing a journal.

But the first time I did the A-Z challenge I became impressed with the creativity people showed in choosing themes they could follow for a month, one alphabet letter at a time. Of course, the alphabet idea is just a gimmick, but it actually works well even without the challenge. The principle of going with one letter at a time prompts you to think out of the box.Let's take a look at other types of journaling you can do on your blog.
You can write a Travelblog.

Have you ever written a travelblog? Here's how. #atozchallenge Click To TweetOne writer in the A to Z challenge was traveling across the States with her husband. She wrote a daily blog on a new place she'd seen, following the letters of the alphabet.

What if there wasn't a suitable town for that letter? She came up with a creative title. e.g. if I were writing about the city where I live, I could say H is for Horse Statue in City Centre, or I is for the Indian Ocean at the bottom of my road.

Last year, my brother and sister-in-law did an overland trip to East Africa over a period of several months. They built a blog for the family and their friends to follow their adventures. They didn't follow the alphabet, but there were regular posts with incredible photographs, telling of their wonderful sightings of wild animals. We read of the amazing places they visited and of some of the drama they faced, especially with customs officials or their 4 X 4.

Once the trip came to an end, so did the journal. But they have it as a  permanent record for the future.
Your blog can tell the story of your life.




This could be public, or you may choose to make it a Family and Friends Only blog, where people join by invitation only. You could write chronologically, but if you're anywhere near my age that could take an awfully long time! If I were to do this, I would probably go for an A to Z theme, and choose places or events or people to write about for each letter. (Which makes me think that might be a fun series of posts!)
You can write a family update blog




where you follow the different members of the family, giving key bits of information that you know to be true. It is amazing sometimes the facts in a family that get skewed through the years.

Imagine the surprise I had one day when I learned my 30-year-old son believed he was born in the city where his brother had been born. He had gone through his life believing that was his birthplace. His true place of birth only came out by accident! So if you're journaling about the family, be certain of your facts.
Your blog can be a "How well do you know me?"

sort of journal. Ask yourself how much your children really know about your life? Do they know your place of birth? (Are you sure? When my kids applied for their British Passports, which they were entitled to because I was born in the UK, I was taken aback by the questions they had to ask me. Not one of them knew the name of the town where I was born, and only one knew where their father was born.)

Were there unusual circumstances to your birth?

How about highlights of when you were growing up? I know when I was a teenager, my mother often used to talk of all she could buy for one penny when she was a child. My reaction was always, Oh nonsense How was that possible? Yet today when I tell my kids I used to buy fish and chips for lunch on school days for 1/6 (15 cents) they look at me as if I'm making it up. (Come to think of it, that does seem pretty unlikely, doesn't it? Pie and chips cost the same.)

In today's global society, more than ever before, families are fragmented, and a Life's Blog could be a great way to bridge the gap between the generations.
A Life's Blog can bridge the generations. Helpful suggestions. #atozchallenge
Click To Tweet
Journaling on  a blog may help you re-live events


that perhaps caused you great stress or fear at the time. Because you are now in a safe environment where you can process the experience without fear or stress, this could bring you healing. Counselors and therapists often advise their patients to do this on paper. So why not on a blog? Of course, if you decide to do this, you may want to hide it from public view. This you can do. (Check Google™. There are lots of resources and places where you can store your writing.)
Journaling is a great way to brainstorm.

If you need to work through a decision or a relationship that is giving you problems, or even memories you want to examine closely, try typing as fast as you can. Forget about grammar or spelling. Just get your thoughts and emotions down, then go back and read it. Save it where you can re-read it at a later stage. Once again, privacy would be important.
Write a Gratitude Journal.

Every day before you switch off your computer, you could quickly jot down two or three things that went well with your day. It may just be that you woke up without a headache for the first time this week. Or that you got the kids off to school without a screaming match. Don't forget the occasional (okay, maybe very occasional) complement that has come your way. When you have a down day, it's great to glance back and read about the really great things that happened on that day in the past.
A regular personal journal




is another way of "keeping a diary", and you will want to keep it to yourself. Recording the highs, lows, or mistakes you made can remind you of actions you don't want to repeat, good moments you want to treasure, and achievements you're proud of. It will help you be more aware of the things you're good at, and situations that bring out the worse in you. And if it's private, you have a space to vent if you need to get something off your chest.
How about a weight-loss journal?




This could be a great resource. Invite a few like-minded folk to join you as authors of the blog. Keep your blog private to your small group. Discuss what you've eaten. Give a report of your day's menu. Confess your slip ups and, of course, record your weight on a weekly basis.  (Don't check your weight daily. It fluctuates too much.)
A few closing thoughts:
Decide on your topic and its privacy rating




before starting your journal. Do you want to keep it private? Or restrict it to friends only? Are you going to blog openly for the world to read? Nothing wrong with that, but obviously watch what you say.
Journaling does not have to be a daily task.
[

bctt tweet="Journaling doesn't need to be a daily task. See many examples. #atozchallenge" username="Shirl_Corder"]
Nor do you need to record everything that happens. It doesn't matter if you skip a day or two. If you decide to leave out some aspect of your life, that's also fine. Select a goal, and then go with it. You may decide to write every 2nd day, or each weekend, or even the first of every month. The important thing is to decide how often you will write, and stick to it. Otherwise, you will lose momentum.

How is this going to help you build a better blog?
As I said at the beginning of this series, not all bloggers are authors. But even if you are, if people know they can join a blog, for example, to help them lose weight, you may be surprised how many sign up to follow you.Just the act of writing regularly in your journal will improve your writing ability.You may find events or people that you want to share with the world, even if your journal is private. A simple copy/paste and a bit of an edit and it can go into your public blog,  or you may even use it as an article and seek publication.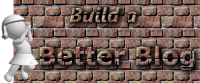 Do you already keep a journal?
Is it online, or in your bedside table?
Do any of these ideas appeal to you?
Is not the poet bound to write his own biography? Is there any other work for him but a good journal?
—Henry David Thoreau, from his journal.
FURTHER POSTS TO READ:
Eager Enthusiasm
Fact or Fiction
Go for Google

Harnessing Hashtags
Interesting Images