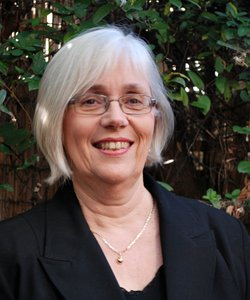 Shirley:  Today, we're spending some time getting to know Jo-Anne Berthelsen, author of Soul Friend.
Jo-Anne, welcome to my website. Thank you for agreeing to an interview about your new non-fiction book, Soul Friend. First off, please tell us, what is a 'soul friend'?
Jo-Anne:  The term 'soul friend' comes from Celtic Christianity around the sixth and seventh centuries in Britain and Ireland. It basically refers to a friend who cares for your soul, who is concerned about how things are between you and God. A true soul friend is prepared to walk beside you in your journey with God, listening to you, praying for you and sharing his or her godly wisdom with you when needed. Other terms I have used in the book similar to 'soul friend' are 'spiritual friend', 'spiritual mentor' and 'spiritual companion'.
Shirley:    What made you decide to write this book?
Jo-Anne:  For around the past fifteen years, I have had the privilege of meeting with a very special lady, my spiritual mentor, Joy, who is now eighty-three years old. Through writing Soul Friend, I wanted to encourage others to seek out a similar spiritual friendship for themselves and/or to be prepared to provide that friendship for another.
Also, by sharing honestly about my own struggles, I hoped to encourage those going through similar situations as I have during my years of meeting with Joy. And last but not least, I wanted to honour Joy for the part she has played in my life and to enable the wisdom she has shared with me over the years to bless others.
Shirley:    How did you meet Joy?
Jo-Anne:  We met at a prayer training school, where she was the facilitator of the small group I was in. I loved the gentle, wise, insightful way she led us as a group and I wanted to learn more from her. I also saw we had several things in common. For example, we grew up in the same church denomination, we both loved music, and we both had a passion for prayer in its various shapes and forms. So when I was required to find a mentor as part of my theological college course, I immediately thought of Joy to fill that role.
Shirley:     Prior to Soul Friend, you have had five inspirational novels released. How difficult was it for you to change from writing fiction to non-fiction?
Jo-Anne:  At first it was strange, not being able to let my imagination run wild and invent twists and turns in the plot or bring in another character! But I soon discovered there were various techniques I had imbibed in my novel writing that made my non-fiction writing easier to tackle. For example, I think this helped me pace the story better, use sections of dialogue with more confidence and even dig deeper into my own character. Now I can't decide which I prefer writing—fiction or non-fiction!
Shirley:     Jo-Anne, as a South African I'm interested in knowing how difficult it was you to get published in Australia? Do you have a number of possible publishers? Are all your books published with Wombat books?
Jo-Anne:  Here in Australia, there are very few Christian publishers and fewer still who will consider publishing novels, which is what I have always written, prior to Soul Friend. It took me around a year to find an Australian publisher for my first novel, Heléna, and in that year, I tried around six publishers here, both Christian and secular. Of the three Christian publishers around at the time, one was not interested in novels, one folded while I was still enquiring, and the third, Ark House Press, ended up as my publisher—just when I had almost given up and was beginning to try for an overseas publisher!
I stayed with Ark House for my first five novels, but have now swapped to Wombat Books, which wasn't around when I first started. My next novel will be published again by Wombat, or rather its Christian publishing imprint, Even Before Publishing, in August this year.
Shirley:  I love the fact that you have written the book in narrative non-fiction. This is my favourite genre for writing as well. Did you ever struggle with what to share in the book and what to withhold?
Jo-Anne:  This was a huge issue for me, Shirley. I was prepared to be as vulnerable as possible about my own journey and the various struggles I have faced in recent years, without sharing things that would be unwise to share, because I wanted to help my readers as much as I could and also to write with complete integrity. But when it came to writing sections that involved other people, that was another matter!
My aim in writing my books, fiction or non-fiction, has always been to encourage my readers in some way, to build up rather than tear down. So I did not want to hurt or offend anyone with what I wrote. In one section of the book in particular, I did withhold much more than I included—to the point that one of my manuscript readers who knew my story challenged me strongly about it.
In the end, however, I worked long and hard to convey enough of the situation and how I felt about it, without maligning anyone else. I hope I succeeded. Also, I took great care overall to include only those things that my spiritual mentor Joy was happy to include. This book is, after all, about my shared spiritual journey with her.
Shirley:     I see the book was published in October 2012. That was the same date my devotional book for those in the cancer valley, Strength Renewed, was released. How are you finding the post-publication phase? Do you find it easy to promote your book?
Jo-Anne:  Soul Friend is my sixth book to be published, so by now I am fairly used to the post-publication phase. However, since this is my first non-fiction work to be published, I have had to think about different ways to promote this book and other possible markets.
There are some aspects of promotion I love. I am very blessed in that I am used to speaking in both Christian and secular settings and across a variety of church denominations. I was part of a local church ministry team prior to becoming an author and speaker and was privileged to speak often in that role. Also, I believe my high school teaching experience has helped greatly.
So I love speaking, but I still have to work at finding all the speaking engagements I can, as well as at all the other aspects of promotion, such as having a good internet presence, doing book signings in stores and searching out new ways of keeping my books visible out there in the market.
It can be exhausting and also difficult to balance with ongoing writing, but I do what I can and my publisher endeavours to help as much as possible, as well. However, I also have a little prayer team who pray for me wherever I speak or sell my books, which is a wonderful gift to me.
Shirley:     Do you know yet how Soul Friend is being received?
Jo-Anne:  While it seems to be selling quite well in the bookstores (for Australia!), what warms my heart the most is the feedback I have received from some readers who have shared how easily they related to many of the issues I cover in Soul Friend and how much the book has ministered to them. That is like gold to me and confirmation that I included the things God wanted me to include in the book.
I am always delighted to pass these comments on to my lovely mentor Joy to encourage her at age eighty-three and show her she is still ministering to others through the many interactions we had that are now in my book.
Shirley:    That's wonderful. Well I really wish you all the best. I pray that Soul Friend will go from strength to strength, and that many lives are transformed as a result. Thank you so much, Joanne, for sharing your time with us in this way.
Jo-Anne: Thanks so much for inviting me to share with you.
Shirley:     You can visit Jo-Anne at:
Websites:    www.soulfriend.com.au, www.jo-anneberthelsen.com
Blog:          www.joanneberthelsen.wordpress.com
FaceBook:   www.facebook.com/joanne.berthelsen