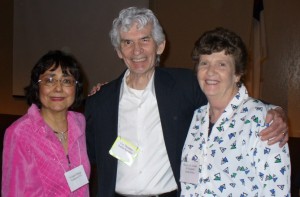 At supper time, I saw Cec Murphey, the amazing sponsor of my trip to the Florida conference, and his assistant, Twila Belk, at the next table and went to greet him.
Cec greeted me with a warm hug. How wonderful to meet him in person after all the years we've been in touch through writers' groups on the Internet. (Left to right: Yvonne, Cec and myself.)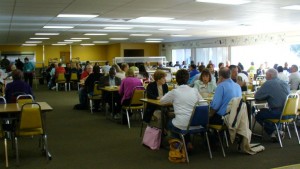 After a tasty supper, served cafeteria-style in a large dining-room, Yvonne, her friend Sheryl and I joined the early delegates at the pre-conference session.
After a short time of worship led by Robin Stanley (agent-advocate) and Janis Whipple (editor/writer), Jon Vonhoff (free-lance writer with an excellent website) spoke to all the newbies at the conference.

He started off by asking if "Sheryll from South Africa" was present. (I love the American pronunciation of Shirl.) He hugged me and gave me a 2010 edition of Sally Stuart's Writers' Guide, which he had promised me in an email. Wonderful! He then presented me with a card from my dear cyber friend, Jan Kern, followed by another hug, this time "from Jan". Yvonne, Jan and I were three of the original critique partners when I formed the Truth Talk critique group seven years ago.
Jon then called me up to the podium to share with the group the event that had led to me coming alone to the conference. As I told of Marion's accident and subsequent surgery there were sympathetic murmurs around the auditorium and after the meeting many people asked me to send her greetings.
Although I am still trying to overcome the a sick feeling of "What am I dong here?", everyone is so friendly, and it's wonderful to put faces to names from my various writers' groups. I still feel so down about my Rise and Soar proposal sitting in the box for "unnamed editors". What an idiot I am for not insisting I got it back.