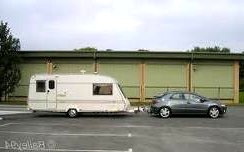 Over many years, our family enjoyed holidays using this means of transport and accommodation. I'm going to call it a "van" for now. We hitched the "van" to the back of our car, and off we would go—with our home on wheels.
Once we arrived at our chosen destination, we would dismantle the rig by unhitching the "van" and then put down the stabilisers (to prevent it rocking).
Next step would be to put up the tent. This took a couple of hours. It went on the side of the van which had the door, so that it became an extension of the living accommodation. The entire side of the tent could be rolled up, giving us outdoor comfort. At night, or if we left the site for a period, or of course in inclement weather, the side was rolled down and fastened securely.
On the other side of the van we would put up a canopy which served as a veranda, giving us extra shade and a parking spot for our car in the evening.  We loved our holiday home that we could take wherever we wanted.
It was well appointed, with a fridge, stove, cupboards with shelves and hanging space. It had its own melamine crockery and cutlery, pots and pans, a kettle that whistled when it boiled, and under-bunk storage.
It had two sets of settees that could switch to two double beds.
We chose to keep one end as a permanent double bed, and the other end as comfortable seating with a table to work on.
We had a small television set, and often brought along the VCR to play videos. In later years. we even carted along our computer (no, not a laptop!) and set that up inside the "van". Then we would play the games we didn't normally have time to play.
So now I need your help. I often refer to these times in my writing, and I can't establish what other countries call this.What would you call it?
Please write your answer under "comment" – and don't forget to give your country.
Please pass this request on to other contacts. Ask all your friends to give an opinion, so that I can get as many responses as possible. Thank you.