Hello again to all you wonderful bloggers!
I am taking part in The Write Tribe Problogger October 2017 Blogging Challenge. So a special welcome to the other members of my sub-tribe. Hi guys!  This is the 6th post in this challenge.
We're working through the alphabet as we look at ways to build a better blog. Today we come to
Google Images Advanced 




There is a common misconception that if you want an image you can "Google" it, and if it shows up you're free to use it. Others will insist it's okay as a long as you give credit to the photographer or artist.

Neither of these is correct. 

There are other sites where you can get pictures, and I will cover them in a later post, but when it comes to Google, there is a way to play it safe. If you go to your Google™search bar, and type in e.g. Cape Town, then click on Images – and you will be presented with thousands of amazing views. BUT those are not all free to use. Read and work through the following instructions carefully.

Steps to finding your image on Google™
1. Go to Google.com then Images, then click on the small cog or link for Settings.
2. Choose Advanced Search. Into the first block, type in your image – and if necessary add the exact word or phrase into the second block.

3. Scroll to the end and click on the drop-down arrow on Usage Rights.
4. Select whichever relates to your needs.


5. Click on Advanced Search – and you will have a selection of images that you are free to use under the terms you have chosen. Note that some still require a form of credit, so do observe those requirements.
6. Note: At the top of your new page of images you will see the statement as follows: Labeled for non-commercial re-use
 Google™ is a wonderful source for research. Search the Web for ideas on your topic. Look for different books on Amazon that cover your theme. Get ideas, don't copy. Be selective of the sites where you get your information. Remember that most blogs are done by people just like you and me. Just because facts are published on the web does not make the author an expert. Be sure of facts before you use them.
In a nutshell, the higher your Google ranking, the more "votes" your blog or website receives, and the higher it will appear on Google searches. I'm not going to spend time on this here as much has been written about this topic, and it would take more than one post to cover. Google "Improve Google Ranking on my blog" and read away.  However, the next few points will assist you.
Write New and Good Content
Note this: Google™ does not like content copied from other sources. Even if it's from another site you own, if the content is the same, Google™ doesn't know it is your site. It only gives credit to the original site, and by copying it over, you may hurt your ranking. This is not as well known as it should be. There are sites which depend on posts copied from other sites. If these posts were written by the same person who copied the content, this may well be legal, but here's the thing: Google™ doesn't like it. The second site will drop in ranking.
Disclosure: This post may contain some affiliate links for your convenience.
Click here to read my full disclosure policy.
This is an area I admit I don't have much knowledge about, but I intend to rectify this situation. I already have a Google+ account, and I regularly click on the G+ icon at the end of posts I enjoyed. With Google+ you are not limited to your letter count as you are with Twitter. So if I enjoy a post, I add a sentence or two saying why.
Watch this video which gives a quick and easy-to-understand explanation about Google+.  Google+ operates with a system of circles, so you can have different circles for different groups.  It would be good to start a circle for those who enjoy your specific blogs. How would you feel about that? If each of your friends were to start a group of the people who enjoyed your posts, your circles as I understand it would link. In no time you would have a LOT of people all linked together, with similar tastes. Can you see the potential? Each time any of you published a new post, we'd all know about it. I think. That's how it looks, but I need to study some more.
If You Don't have a Google+ Account
. . . it is probably a good thing to get one now. Here's where to go to find out more. We'll look at this in more detail but start straight away by forming a few groups around you. When you read a blog post you enjoy, click on the small icon g+ sign . That's a start, right? And we are helping one another Build a Better Blog.  You Tube has a stack of explanations and instructions   so if you want to know more, just look  for it on You Tube.
 Do you use Google™+?
What do you enjoy most about Google?

Add a comment below!
"Google everything. I mean everything. Google your dreams,
Google your problems. Don't ask a question before you Google it.
You'll either find the answer or you'll come up with a better question."
~Austin Kleon (Steal Like an Artist: 10 Things Nobody Told You About Being Creative)
FURTHER POSTS TO READ: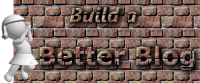 Introduction to Blogging
Awareness Alert
Blog a Book
Creative Content
Dogged Determination
Eager Enthusiasm
Fact or Fiction?