Wow! How incredible is this?
We've reached our 50th Wedding Anniversary, also known as our Golden Wedding Anniversary, although I don't think we'll be seeing any gold this year!
I remember when a Golden Anniversary was a BIG thing.
My parents spoke of it frequently. My mum couldn't wait for her 25th (Silver) wedding anniversary—and then Rob and I got married close to the date.
She announced, "Okay, you've won this round. We'll spend our money on your wedding. But in 25 years time, no celebrations for you! We're celebrating our Golden Anniversary."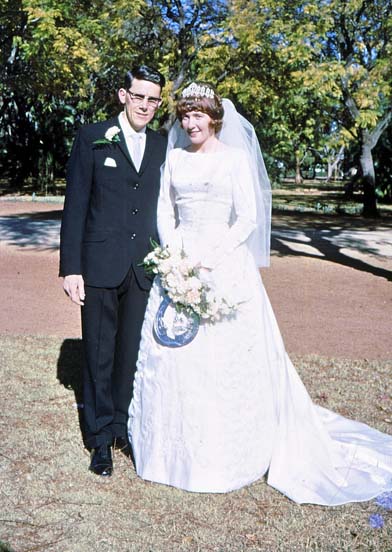 We laughed. And we agreed.
Only they didn't make it. Dad died of a sudden cardiac arrest one evening while watching Air Wolf on the TV. (To this day I get goosebumps when I hear that music!)
How are we celebrating?
On Friday 4th we'll be driving through to Sedgefield, a four-hour drive from where we live in Port Elizabeth. We're spending three nights in a beautiful resort, Pine Lake Marina. My brother and sister-in-law are traveling down from Edenvale, outside Johannesburg, in a trip that will take about 14 hours. They will be staying with us at the resort, as will a dear friend from Port Elizabeth who is joining us for the weekend.
On Saturday, we will be holding a braai lunch (barbeque) outside under the trees (the Lord and weather permitting!) Steve, our elder son, will join us with Hannelie, our daughter-in-law, and our two youngest grandchildren. Sacha, our granddaughter that many of you prayed for a few years ago, will also come out for the day as she now lives in George a few kilometers away.
Three couples who are good friends from different congregations will also join us for the day. Bob and Barbara Burton will come from George, Ken and Pam Laughton are coming all the way from Simonstown outside Cape Town (a nine-hour drive), and Harry and Margaret Munnings will join us from nearby Carmel.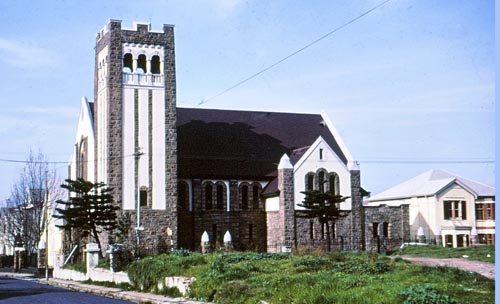 The latter have been friends of ours since we all belonged to the Mowbray Presbyterian Church youth group many years ago. (Way more than 50 years ago!)
We plan to have a time of fellowship then prayer and praise. We will then enjoy an afternoon tea (and probably more coffee) plus a special cake for the occasion being made for us as a gift by Daphne Mew, a friend here in Port Elizabeth.
Looking back over 50 years of wedded bliss
. . . ummm . . . make that wedded-and-we'll-make-this-work bliss.  😆 
We tied the knot on 5th August, 1967. And did we live happily ever after?
I'd love to say, "Yes!" But there were some difficulties at times. If you're married, you'll identify. But we married for keep, so we worked on the difficulties.
Three children enriched our relationship as well as sharing their challenges with us too. The three of them have all married lovely Christian young people, and they have blessed us with six wonderful grandchildren. Here they are, with the absence of the littlest member, Zane, who had not yet been born.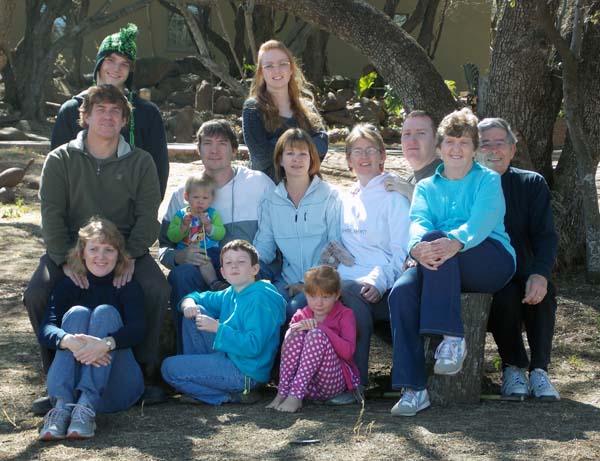 Isn't this amazing? All out of one marriage. 
Life is good.
Marriage is good.
Did we ever consider a divorce?
I remember once hearing a man being interviewed on the radio on his 50th Wedding Anniversary. The interviewer asked him, "Honestly, throughout all those 50 years, did you ever consider divorce?"
The man replied promptly, "Divorce? Never! Murder? Often."
Seriously, I don't think either of us ever considered murder. (Besides, we might have got caught!)
Nor did we consider divorce. When we got married we took vows before God that we would stick to one another through thick or thin (or whatever).
Did we ever wonder if we'd made a mistake?
Oh yes, I think we both did at times.
But you know what? If we'd made a mistake, tough. We'd done it. We'd taken those vows. So we had to work things out.
After my fifty years experience in the world of marriage, I've learned a lot. (And I still have a lot to learn!) So here are twelve points worth considering if you want a happy marriage that WORKS.
You married for life. Don't even consider anything shorter. It's not an option. And if you made a mistake, tough. Work on it. Look for the qualities that made you fall in love in the first place, and start to admire them and encourage them. (I'm not looking at abusive situations here. That's another matter.)
You married for life. Don't consider anything less. Click To Tweet
Your partner is not you. I can't tell you how often I used to say, "But I would do it this way . . . " And my ever-patient (well, usually-patient) husband would reply, "Yes, but I'm not you." Don't expect him or her to always behave the way you would, or even in ways you like.
Treat your spouse with love and respect as you did when you first got together. Don't tell jokes that show him/her in a bad light, or criticize them in public.
Ask, don't command. It's just as easy to say, "Please will you put on the kettle?" as "Put the kettle on for tea." "Do you think you could walk the dog tonight? I've got so much to do." That's more likely to get a favorable response to "You need to take the dog. I'm busy."
Do things together, but also do some apart. Maintain your own identity. Keep your own interests, or develop more. Take an interest in each other's hobbies and interests.
Nurture your marriage. In our years of ministry, Rob and I have come across so many situations where the wife has been caught up caring for the kids, and the husband has gone his own way, developing interests on his own. Then one day they wake up an empty nest. The kids have gone (or even just become independent ) and Mum no longer has her hectic schedule. She turns to her husband to find he has his own life. Trouble on the horizon.
A happy marriage doesn't just happen. Nurture your relationship. Click To Tweet
Husbands! Develop hobbies and interests you can do at home. It often happens that the husband reaches retirement age and he has nothing to do. He wants to go out every day. Meanwhile, Wifey has her routine, washing, ironing, cleaning . . . and she doesn't want to go out every day. Besides, he keeps getting under her feet. More trouble on the horizon.

Enjoy one another's company

. This comes out of the two points above. Do things together (with the kids, but sometimes just the two of you. Get a good babysitter.) Talk about what you want from each other and seek to develop similar interests. Rob and I belong to a senior choir which goes around entertaining the residents of retirement villages, Church senior groups, and frail care centers. We love it, and it is an interest we share.

Put your marriage partner first. Sometimes that is difficult during the child-raising days. But the kids come into an established relationship, and they leave that relationship when the time comes. Your marriage is the foundation that helps them become mature adults. So no, the children don't come first. They fit into the general scheme of things, but your partner needs to know he or she is not being pushed out by the younger generation.
Maintain a social life. Enjoy your own friends as well as having joint friends. Have fun together and apart, but never in a way you cannot share with your partner. Going on holiday? Go together. In 50 years, Rob has had to go away for a number of conferences, but as soon as they were over, he came straight home. I have had to travel overseas on two occasions to attend writers' conferences, but we contacted each other regularly and I couldn't wait to get home to my man. We have never had a holiday apart.
Build trust into your relationship. I make cards, and I'm part of a few Facebook groups that buy cutting dies from China. I am horrified the number of times I hear women saying how much money they've spent on dies, but "of course my husband has no idea!" Friends, trust is a two-way street. If you want to be able to trust your marriage partner, you also need to behave in a trustworthy manner. Small "cheats" can easily become big cheats. Stop that in its tracks. If you overspend? Confess, and ask for help in overcoming your problem.
Trust in a marriage is a two-way street. Small cheats lead to big cheats. Click To Tweet
Finally, the most important point of all. During your marriage ceremony it is likely you heard "and the two shall become one". It's a nice thought. But really, it should be "the three shall become one".  Faith needs to be what cements your partnership. Jesus Christ is the Head of our home. We may disagree on a point, but when we turn to Him, we find He has the only solution. It may be one we agree with. It may not. But He's always right.
Recipe for a healthy marriage: A cord of three strands is not quickly broken. Ecclesiastes 4:12. Click To Tweet
So, yes. We've made it! We've reached our 50 year milestone. But we're not planning on pulling the plug tomorrow! We hope there will be many more happy and useful years ahead of us.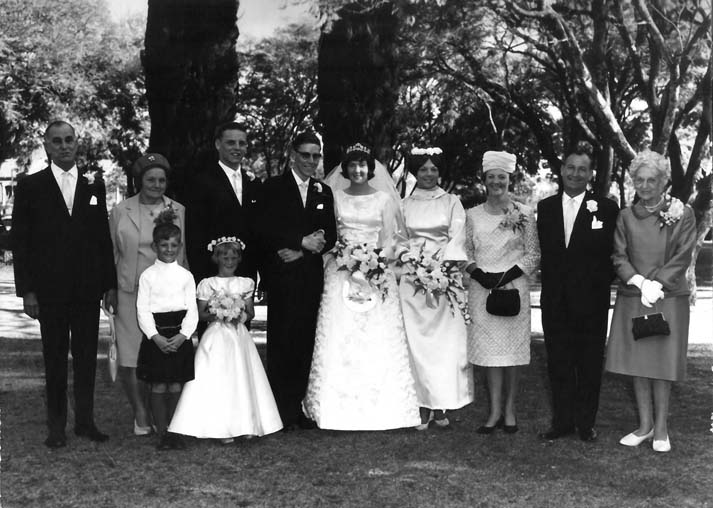 Our little page boy was (and is!) my only brother. He will be the sole representative at our anniversary celebration of that day 50 years ago. The lovely bridesmaid, Moira Lee (now Moira Oliver) was my flatmate during our nursing years, but sadly we've lost touch.  The others have all moved on to be with Jesus and are waiting for us to join them one day.
Thank you for reading, and please leave a comment below telling me which of these tips resonate most with you.
May you spend the rest of your life in a great relationship with the Lord and with whomever you are close to.
See the follow-up to this post, Share My World.