27 Feb – 8 a.m. Why does everyone keep asking if I'm excited? There's too much to do, too much to think about. Excitement will come later.
11 a.m. Shattering phone call from Marion Ueckermann who's supposed to be coming with me. She's sitting in the emergency section of the hospital. She's broken her wrist. Oh man. She insists she's still coming, but I doubt it.

12:30 Sitting on plane at Port Elizabeth airport, awaiting take-off. Am I excited yet? Definitely not. Sick to the stomach over Marion. That's all I can think of.
14:00 On the ground in Johannesburg. Plane taxiing to the terminal. Excited? Tense more like it. What will the news be from Marion when I switch on my cellphone?
23:00 What a hectic few hours. As anticipated, Marion can't fly. She has a severely fractured wrist and will be operated on tomorrow morning. What a blow for us both—particularly for her.
During our conference preparation, we've been sharing the load: "You get that, and I'll get this." Result is there were a number of things I needed to get urgently— and it's Saturday afternoon. Shops close early.
My brother collected me from the airport and whisked me to his home where I gulped down a cup of tea. Then he raced me to the shops where I charged from shop to shop replacing the things Marion was going to supply. We got home and went out to dinner together. Now the family are in bed and I'm catching up on emails etc. Chatted to Marion a short time ago. She's devastated.
Am I excited? Nope. Disappointed, anxious, tired, tense – anything but excited. Excitement will come later — when there's time to breathe.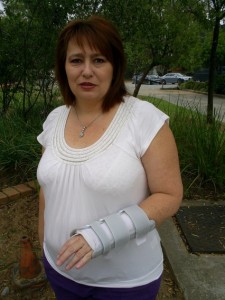 This photo of Marion was taken at the end of my journey when I was on the way home.