Hello again all you enthusiastic bloggers!
I am taking part in The Write Tribe Problogger October 2017 Blogging Challenge. So a special welcome to the other members of my sub-tribe. Hi guys!  This is the 2nd post in this challenge.
We're working through the alphabet as we look at ways to build a better blog. Today we come to E for
EAGER ENTHUSIASM.
If we want to turn our blogs into a site people will want to visit, we need to be enthusiastic. Enthusiastic, not just for the first few posts (easy to do) but enthusiastic when the going gets tough. (Like in an A to Z challenge when you reach the Q's, the X's and the Zs!)
So here are a few suggestions that may help.
Hang on to that enthusiasm you had in the beginning!


That isn't easy. You start with great enthusiasm, but after the first few posts you begin to wonder why you're spending all the time writing something hardly anyone seems to read. For that reason, it's great if you start to collect followers. Then you feel as if there's a reason for writing. You also know someone will miss you if you fail to turn up!

Don't judge your success by the number of comments you receive!


One thing I've realised is that where people may read, they are slow to comment. So don't judge the success of your blog by the number of comments you get. Then you will soon give up. Check how many people visit your posts on average, then go all out to increase that number. Also follow the suggestion in an earlier blog and ask for a response to your topic.
Keep at least one post ahead of where you are.


Make use of the scheduling facility which I think is present on every blogging platform. I believe some people even have their entire A to Z written in advance before the starting date. (I wish I could say I have done that for this ProBlogging challenge!) Do try to schedule at least one post ahead of where you are in case "life" happens. It will.

Schedule tweets before your next post is due to go live. 

Do you have a Twitter account? If you don't, show your enthusiasm for your posts by rushing over there right now, and open one! When you write a new post, create a catchy sentence and type it into the message box. Shrink your link using a shrink tool, m(e.g. Bitly.com) and schedule it to go off within a few minutes of the post going live. HINT: Schedule this to post at least three times, at eight hourly intervals. That's not spamming, that's covering the various time zones.

If you have a WordPress.org blog or website, do install the Better Click to Tweet plugin so you can encourage your readers to tweet your post. (Here's how it works! Just click for me!)
Be Eager and Enthusiastic when you post on your blog. People will notice. #WriteTribeProBlogger #writebravely Please visit and comment. Thx.
Click To Tweet
Create an attractive promotion with a live link




… and schedule it to appear on your author page (a.k.a. Fan page) on FaceBook the same day as your post. Time is not such a big issue here, as the post will stay visible to your fans, although the Facebook algorithm does make who sees your posts a challenge. Make sure you have an image at the top of your post, and then it will show up on your page.
Make use of any other social media you are involved in. 

A few hours after your post has gone live, as well as throughout the day, see how many people have already visited. Always check for comments and respond if there are any—but don't become discouraged if there are none.
Make use of hashtags

…on both Twitter and Facebook. For example, during this Write Tribe ProBlogger Challenge we're using the hashtags #writetribeproblogger and #writebravely. Every time I scheduled a promotion for my daily blog, I add that hashtag. I anticipate finding other bloggers who are also doing the challenge are visiting my site and sharing their own enthusiasm, as well as re-tweeting my promotion. The number of visitors to my site doubled the very first day I started using a hashtag on another challenge.

Become a Monday blogger!




In my reading about how to improve my blogging experience, I learned that Monday is one of the best days to blog. More people read blogs on a Monday than other days. I also learned that an enterprising blogger, Rachel Thompson, a.k.a. The Bad Redhead, had created the hashtag #MondayBlogs. It is only supposed to be used on Mondays, but of course people re-tweet messages and so posts continue to show throughout the week.

I decided to try and follow her suggestions and I was amazed at the result. By scheduling a blog post to appear each Monday (at eight hourly intervals), and using the #MondayBlogs hashtag in the promotion, once again I received many re-tweets and my visitor numbers again shot up. (Follow the link for more information.)

Constantly look for new ideas

….that you can use in your posts. Learn where to find images that you are legally allowed to use. Don't take chances by grabbing pictures off the web and sticking them into your post. Some people or firms can get very sticky and you could end up with a lawsuit on your hands. More on this to come when we reach I is for Images, but start a folder on your computer in which you save pictures you think you'll be able to use one day, and keep a record of any copyright details you need to use.

Develop new techniques and ideas.

I started to play with a free graphics resource, and I soon discovered there were many tutorials out on the web just waiting for me to follow. So I started to create new landing pages, fancy letters and custom-made images that I could use on my posts. Not only do I enjoy writing the posts, I get to play with graphics with great enthusiasm to create these images.

Keep an eye on the time.
Time flies when you're having fun with your blog. #writetribeproblogger #writebravely
Click To Tweet
Time flies when you're having fun. When a graphic or a post takes a long time, make sure you get value out of it. e.g. the image on this page with the words coming out of the bricks, for an experienced graphic artist may only take a few minutes, but it took me an entire evening. That's why you're getting it each post in the series. I'm determined to put it to good use.
If you don't already have a good graphics program, download GIMP. I now have an early version of Photoshop, but GIMP is an amazing free program. (The wall image was made using GIMP.) Get enthusiastic about its effects and the ways you can use it to improve the appearance of your blog as well as creating fun promotional posts for FaceBook etc.
E is for Eager Enthusiasm as you Build a Better Blog #writetribeproblogger #writebravely
Click To Tweet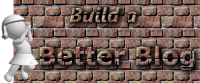 What part of blogging do you find the most fun?

Please share in the comment section below. 
 "You will do foolish things, but do them with enthusiasm."  —Colette
About the challenge
Those participating in the challenge are members of the Write Tribe Blogging group on FaceBook. We are committed to post at least twice a week for the month of October on Mondays and Fridays. There is no specific theme, but I may well post around the theme of card-making on the Mondays, and continue this series on blogging on Fridays (instead of Thursdays).
Subscribe below to receive notifications.
That way you won't miss any of the posts. I promise not to pass on your email address or to flood you with spam!