Today we look at D as we seek to Build a Better Blog.
D is for DOGGED DETERMINATION
No person who has been blogging for any length of time will tell you blogging is easy. Some posts just flow. Other times they seem to run into a blocked dam. You wonder why on earth you ever thought you could blog regularly. So here are some suggestions to help you cope when these times arrive.
Determine to make your blog a success. 
It doesn't matter what type of writing you're doing. Whether you write poetry or comic strips, novels or technical manuals, if you're going to write, you need to be determined to succeed. That includes blogging.

Once you've decided to blog, you need to determine how often, what your topic will be, and in fact why you want to blog at all. Once you know these facts, be determined to see this as a priority.
A blog that happens now and then will not be supported. I know. I've tried to do it and my support dwindled to almost nothing. I've also stopped following blogs where the topic was good, but they didn't post regularly, as I never knew when to go there and eventually gave up.
Determine what facts your readers will take away from your blog.
What is the purpose for your post / series / blog? People won't come back if they don't benefit from the material you give them. It may be simply a blog about the family. If you just list what they have to eat, you won't get visitors! Think about what brings visitors to your blog, then give them something to keep coming back.
Declare war on apathy.



I suggested in an earlier post you write a series. That helps you know ahead what comes next. Determine to find creative ways to breathe life into your blog. Keep notes, or even work ahead with topics,  giving your title and your initial thoughts, then scheduling them for the day you want them to post and save them as drafts.
That last point is in bold, because it's an easy slip to make, to save it as scheduled and to publish. I once drew up a whole list of blog posts and jotted down a few points for each, then scheduled them to appear each day for the next two weeks. I intended to work a few days ahead, writing the blog in a correct format and adding illustrations. Then life happened. (It has a way of doing that, have you noticed?) We had a family emergency and my blog fell out of my mind. When I came back to my blog it was to find about six blog posts happily published on my blog for the world to see with only a few random thoughts on each one!
Determine to supply your readers with valuable information.
How do you do this? By asking. Always end with a carefully-thought-out question and encourage them to leave a response. I find this a real challenge. People visit my blog. Sometimes they comment on Facebook or drop me an email. But I want them to comment on the post itself. This helps me see if I'm meeting a need, and others benefit by their comments.
If you visit a blog post, leave a quick comment. It does make a difference.
Click To Tweet
If you're writing a family blog, you can post an occasional favourite recipe, or a website with helpful hints for mothers or dads. Add at least one note of interest, no matter what your topic.
Draw up

 a list of like-minded blogs.



Social Media is a good place to start, and Google has a wealth of lists in every niche imaginable. (More on these when we get to them.) In the meantime, you can find a list of just about any type of writing blog on My Name is Not Bob!
Visit other blogs.



This is one of the wonderful things about the A to Z Blogging Challenge. I got to read blogs I would normally never look at, and I'm constantly amazed how much I learn in the process, not to mention the lovely people I meet. One way of visiting blogs is just to click on links when you're reading a blog you visit frequently.  Another way is to join up with one or more blogging groups on Facebook. I love the fact that one of the blogging groups I frequent seems to be almost made up of folk who live in India! It's such fun getting to know them, and I find many of them interested in my South African way of life.
Determine how many you can visit a day, and look for a list of blogs in your field. You don't need to read them in depth. Skim through them, pausing on the points that leap out at you. Is there something beneficial? Do you want to visit them again? Bookmark them! Do you like their format? What can you learn?
Do you have a blog about blogging? Please visit and leave your URL and I'll visit you.
Click To Tweet
Determine to use your posts  in more than one way.
If you're just going to post for the sake of posting, you will soon become discouraged. You will be wasting a lot of time. For example, I am responsible for the Friday Devotional slot on the International Christian Fiction Writers (ICFW). I also send out a devotional email, Closer Walk with God, to all who sign up for a weekly message of encouragement. I have learned to watch my blog posts for excerpts that I can turn into devotional messages. I'm also planning on using this current series in an e-book in the future, and I will probably write one or more articles on blogging for writers' magazines.
Get yourself a library of books on Blogging.
Do you have a Kindle? Go to Amazon.com and type in Kindle blogging book. You will find a number of excellent resources on the topic of blogging for free, or for very little. Skim through them for further inspiration.
If you do not have a Kindle, download the free app and start to read on your computer or iPad. Before either of us owned a Kindle, a friend and I collected Kindle books on our computers whenever there was a freebie we fancied. When we eventually got real Kindles, we already had good-sized libraries that were automatically downloaded to our e-readers.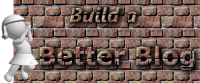 Do you have a site or book to recommend to other bloggers?
Please share the URL in the comment section below. 
Which of the points in this post resonates with you?