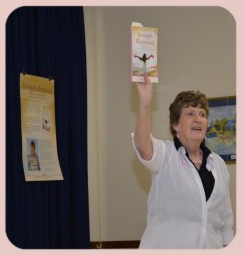 Up until now, I've been giving you the background story as to how the Lord took the germ of an idea and grew it into a book that will soon be available across the globe. I say the Lord. I'm hoping that if you've read through this story, you will see, as I have, that this has been no casual procedure.
STEPS ALONG THE WAY:
 We've seen how I got to a Christian conference in the USA, all the way from South Africa. We've looked at how the initial proposal came into the hands of the one editor I just knew wouldn't want to see it–and how she loved it. I've shared with you how each step along the way turned into another adventure with God, resulting in the book that is about to launch in 35 days time. (1st October, 2012)
LATEST DEVELOPMENT: 
Last week I ended with the information that the book was at the printers.
Within a few days of that post, I received an exciting email. It came from the managing editor of the publisher. "Your book came in! It looks great!"  So now I await my first copy of Strength Renewed, Meditations for Your Journey through Breast Cancer, as we draw closer to the book launch.
And that brings me to a question.
WHAT IS A BOOK LAUNCH?

 
DOES IT MEAN A CELEBRATION? A few weeks ago, it occurred to me that 1st October is going to be somewhat flat. For two years, I've worked towards this date as the Launch Date, as if my rocket would hurtle into space on that day, never to return.
I suppose there are some similarities. After all, once Strength Renewed is out there on the shelves, it will be extremely difficult if not impossible, to call a stop to it. Still, what does the term launch really mean? More importantly, what does it mean for me? Technically, all it really means is that the book will at last be on the shelves of the bookstores, and available for online purchase.
An email sent by another author to an online writers' group about her "book launch", jerked my strings and made me wonder if I should be doing something to celebrate.
HOW TO CELEBRATE? 
I suggested to my husband that we might go out for breakfast that day to celebrate. He seemed to think we needed to do more than just breakfast.
Two Skype calls to my two daughters-in-law, who live in different parts of South Africa, confirmed that they and my sons all agreed. This called for a party. Now in this world we have party people, and we have non-party people. I am one of the latter.
Before I had a chance to protest, we had
a committee of six (four on the ground, here in Port Elizabeth), plus my two daughters-in-law on the end of Skype
a provisional booking for a lovely hall
an ever-growing list of guests.
a tentative programme for the event (after plenty research on good old Google!)
and a provisional date for the function: 4th October.
HOLD UP: 
In the meantime, I have been trying to find out, unsuccessfully, the date when the book will be available in South Africa. Although it will still be a reason to celebrate, there doesn't seem to be a point in holding a local party to celebrate the launch of a book that is still on the other side of the Atlantic!
So that's where we are right now. A tentative programme on an estimated date, in a provisionally-booked hall. We can't order snacks or send out invitations until we have a definite date. Oh – and our sons and daughters-in-law are driving / flying in a day or two before the proposed event. How amazing is that? Apart from my daughter and son-in-law, who are excused as they live at the other side of the globe, my entire immediate family will be here.
For the launch.
On 4th October
I hope.
Now all I need is the book on the shelves by that date! I trust I will have more to tell you on that topic next week.
By the way, in case you're wondering,
the book is still launching on October 1st online and in the USA. If you live in another part of the world, please give your bookstore a ring and see when the book will be available in your country. Otherwise, order it online. (Don't we live in an amazing world?)
You can preview the first chapters of this book, or purchase it direct from this page. Click on the relevant tabs below the image.
If you enjoy the book, I'd love it if you'd leave a book review on Amazon, Goodreads, or anywhere that stocks the book. Thank you!