"A Georgia woman who had disappeared a few days before her wedding turned up last weekend in New Mexico; she first told police she had been abducted, but in the end she confessed to having had cold feet.
Follow-up stories have quoted psychologists who guess "there's more going on here than just cold feet" and wedding planners who say that brides-to-be get cold feet all the time. Where did this phrase come from?"
Thanks to Daniel Engber, a columnist for Slate.
Today we're looking at the common phrase, Cold Feet. 
Disclosure: This post may contain some affiliate links for your convenience. Click here to read my full disclosure policy.
=ooOoo=
"Cold Feet"
Meaning of this common saying:
This expression commonly refers to a loss of nerve, or having doubts about a particular situation.
Where did this come from? 
The origin of the phrase, cold feet, lies in fiction.
According to the Oxford English Dictionary, the first usage of the term, "Cold feet," was by the writer Stephen Crane. In his second edition of Maggie: A Girl of the Streets (published in 1896), Crane writes, "I knew this was the way it would be. They got cold feet."
By this he meant they lost courage or became afraid of the consequences. By the early 1900s, college campuses had picked up the phrase. At the time of the 1st World War (1914-1918) people started to call men who were afraid to fight in the war as cold-footers."
In the 1860s, the German author Fritz Reuter described a poker player who managed to bow out of a poker game without conceding defeat but telling his fellow players his feet had become too cold, so he could no longer concentrate.
Over to you:
What condition or circumstance gives you cold feet?
Something to help those cold feet!
I can personally recommend these toasty bed-socks.
My husband gave me a similar pair (in pink) one Mothers' Day, probably in desperation! When my feet were frozen in the middle of the night (which they always were) I found the best solution lay in tucking them between my husband's shins!
My one complaint is you can't walk around the house with them. But then I don't suppose you're supposed to! There is a good selection of similar foot warmers waiting for you on Amazon if you follow this link.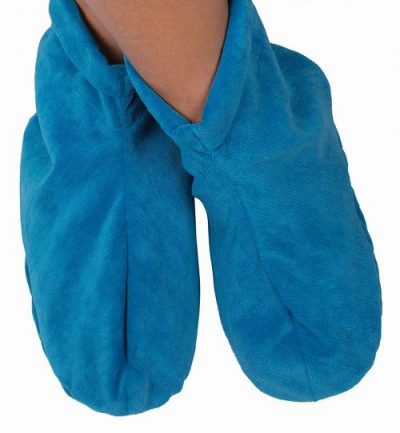 About this product:
Microwave for moist heat to relieve sore muscles and joints or freeze to use as a cold compress.
Fragranced with natural herbs to help you relax, restore and rejuvenate.
Reusable and filled with 100% natural grains.
j