Blogging Challenge
I'm participating  in the Write Tribe Problogger October 2017 Challenge. Once again, a big hello to the other members of my sub-tribe. Hi Guys!
I have chosen not to go with the prompt once again, but rather to follow on with another post about card-making with a cuttlebug.  Previous posts on this theme are #1 – Pattern,  #3 – Word Card-making Day, and #5 – Embossing Folders.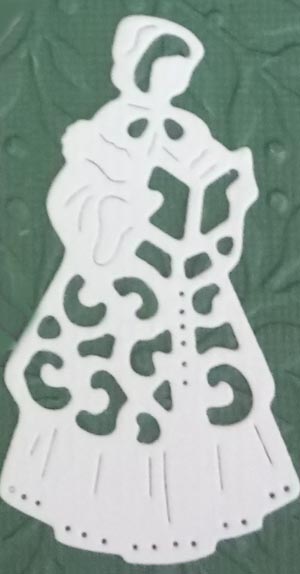 Last week, we took a look at embossing folders, and we saw how they turn a piece of plain card-stock into a beautiful background. This week, we're going one step further, and look at Cutting Dies.
How do Cutting Dies work?
When you put card-stock into embossing folders and roll it through the Cuttlebug, it comes out with a design embossed on the surface. (See here if you didn't read last week's post.) But there is another use for the Cuttlebug, and that is cutting out shapes.
You buy cutting dies, which I mostly get through eBay as they are way cheaper than the local shops, and use them to cut out designs you can use on your cards. Each die has outlines of sharp blades, which cuts out the shape, and often has additional raised bits of metal that emboss the shape as well. Take a look at the lady on the left.
The blade has cut out the shape of this carol singer, while other raised pieces have "drawn" in lines to complete the image.
Take a look at this video where I show you how the cutting dies work.
Once the dies are cut out and the card-stock embossed, it's a matter of assembling them, adding a greeting and a few finishing touches. Here are a few small cards made using embossing folders and cutting dies.
Which do you prefer? The longer (normal) sized card, or the small square ones?
Next week
Next week we'll take a look at some varieties you can get using the dies and embossing folders.