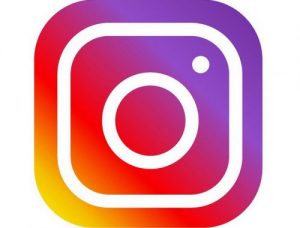 When I used to hear about a new form of Social Media, I would jump in headfirst. The result is I belong to things I know nothing about and I don't have time to learn.
So when I noticed that more and more people were using Instagram, one which I haven't signed up for yet, I decided to change my tactic. I would first learn whether I wanted to use it, and what I would gain by it.
I scheduled five questions to appear on my Facebook Author page throughout the week. Although the questions had plenty views not many answered, so I decided to put them out here in the hope that I get some more insight from you my readers.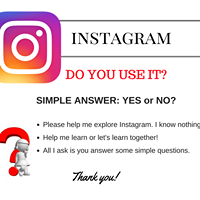 So here we go:
Instagram: Do you use it?
This required a simple "Yes" or "No." Four people said YES. and four gave definite  "No's!" Two others dabble.
All I can see is this is a chance to show off your photographs and look at other people's. Have I got this right? I'm an author, and I see an increasing number of authors using Instagram to promote their work—but I can't see how that works.
That brings us to the next two questions: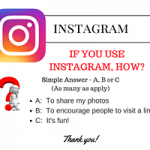 Instagram: How do you use it? 
A. To share my posts
B. To encourage people to visit a link
C. It's fun!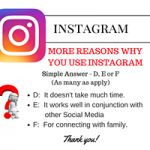 D. It doesn't take much time
E. It works well in conjunction with other Social Media
F. For connecting with family.
I received one response to A, B, C and D. One person commented that although it's easy to share on multiple Social Media when posting a photo, it is not so easy to share another person's post.
Moving on .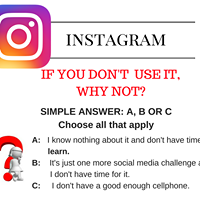 . . I asked
Instagram: If You Don't Use It, Why Not?
A. I know nothing about it and don't have time to learn.
B. It's just one more social media challenge. I don't have time for it.
C. I don't have a good enough cellphone.
Two responses – both said B. Seeing that's closest to how I feel, this doesn't encourage me to go for it.
And on to the final question: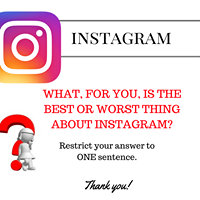 Instagram: What, For You, Is the Best or Worst Thing about Instagram?
No initial response. Then I received a comment from Wendy Marshall, a cyber friend, writer and editor: "Here's something I just learned: you cannot post from a computer. I'm not sure if you can post from an Android device."
That could definitely be a deal breaker for me. I have an Android smartphone, an Android tablet, and do most of my work, especially with pictures, on my desktop computer as I have two monitors.
The next day, Wendy posted again: "I did some more research and there is an app for android phones. As well there are bridging apps for computers." This link takes you to the site of David Coleman, a photographer.
He offers three apps which work well to bridge your photos on your cellphone (mobile) with your computer. Here they are with a short excerpt from the site:
Uplet
"The simplest of these two is Uplet. It's available in the Mac App Store and is only available for Mac.
"I've found it to be lightweight, easy to use, and to work as advertised. It doesn't have any filters or advanced editing features, but that simplicity is a big part of its appeal."
Grambler
"Grambler takes a quite different approach. It's more complicated, but it also offers a lot more features. There are versions for Mac and Windows.
"There are two parts to it, an app that you install on your computer and a web service. They work together in getting your photos from your desktop to posting on Instagram."
Deskgram
"This is a desktop app for interacting with Instagram. There are versions for PC and Mac.
The reason I say "interacting" is that there are two versions that allow different things, although that's not as clear as it could be."
Thank you David Coleman! And thank you Wendy Marshall!
Now it's over to you.
Please add one or more comments below about your experience of Instagram. How do you use it? Or if you don't, why not? I think I've reached my personal verdict, but the jury is still out. Convince me—or confirm I'm right. Thank you!
Please Tweet one or more of these:
Here's what I found out about Instagram: http://tinyurl.com/koofeht Please add your thoughts. Thanks.
Click To Tweet
Instagram looks like fun, but is it good for authors? http://tinyurl.com/koofeht
Click To Tweet
I decided to find out about Instagram. Here's what I found. http://tinyurl.com/koofeht
Click To Tweet