March 6 Did I mention the alarm clock in my room didn't work? And my cellphone is dead and can't be recharged in America? Ahh well . . . the inevitable happened. I woke up as breakfast was starting at the main centre. Crazy rush. In and out the shower, clothes on, makeup on with one hand and shoes on with the other. Brush through my hair as I ran out the door, grabbing my folder and keys on the way. And yes, I made the end of breakfast.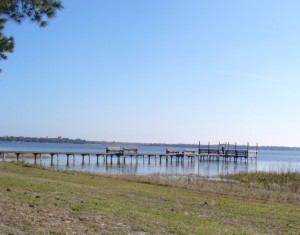 8:30 – 10:45 During Lauren's branding class I had to slip out twice for appointments, one with an agent and one with an editor. The editor wants to see one proposal, the agent wants to see both. I'm notching up plenty homework for when I get back to S.Africa as these all need to be reformatted to meet their requirements.
11:00 – 11:50 General Session included a lovely time of worship followed by an amusing talk by Jesse Florea, then it was off to lunch. During the meal I spoke to Elaina Meyers, an editor whom I wanted an appointment with, but her time-slots were full. Although she works with children's writers, she was also the only representative of Standard Publishing present. She offered me a time after tonight's session. Yikes. I hope I'm more awake than I was last night.
She then spoke to the lady next to her, and my ears pricked up. She was discussing church programmes that kids could take part in as well as grownups. When the other lady left, I asked Elaina some questions and discovered she was looking for writers who could write programmes for the church calendar. She showed me some examples and I nearly exploded with excitement. The articles she showed me were similar to what I have been writing for the church since I was in my teens. I came away from the lunch table with a promise from her that she'd send me a sample copy, and a promise from me that I would send her some skits. So here's some more of those articles I wasn't going to write . . .
13:30 – 14:30 I had an appointment with an editor, so went there before Jon Vonhof's workshop, Fine-tuning your Writing Niche. The editor's next appointment didn't show up and we had a slightly longer time together. That in itself was good, but it meant I was too late to show up at Jon's workshop. I apologised later, and he said he'd send me his handouts after the conference.
One of the wonderful perks of this conference is that they're sending us all a copy of a CD with all the workshops on it as mp3s. That's so great, as it means we can listen to the workshops we've missed, and re-listen to those we've half-forgotten. (Later – unfortunately these never arrived.)
From 15:00 – 17:00 each day there is Walk in Manuscript CPR where you can go for help with any manuscript you are struggling with. I didn't ever manage to get there, but what a great idea.
14:45 – 15:45 I attended Craig van Buseck's elective workshop, Professional Public Speaking to Promote your Writing. Unfortunately I had to leave half way through as I had an other appointment, this time with another agent, Diana Flegal.
This was a case of instant bonding. We both took to each other, and it was like talking to a friend I'd known for years. She obviously liked my proposals and has asked me to send both proposals to her, along with copies of my one-sheets. She was very encouraging and I know I'd love to work with her. She stressed that I needed to start building up a speaking platform now, and not wait for my book(s) to come out. I hadn't thought of that, but it's an interesting concept.
16:00 – 17:00 I attended Larry Leech's Critique Groups that Work. He spoke about Word Weavers, and I came away from there challenged to see if I can get a similar group going here in Port Elizabeth. (In my free time of course, all you sceptics.)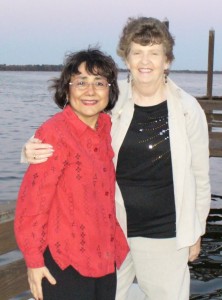 Before supper Cheryl, Yvonne and I dashed down to the pier to take a couple of last photographs.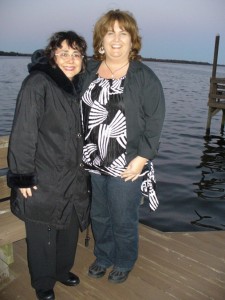 Yvonne and I braved the cold and took off our jackets to take a snap that we can use to try and compile a group shot with our other Truth Talk members. We could hardly stand still for shivering so I'm not sure we'll be able to use the photo.
18:45 – 20:30 After the evening meal, the General Session included the Awards Presentation with two of the main prizes going to a youngster from the teen track. Amazing.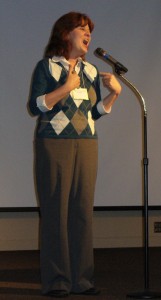 Angela Hunt, well-known best-selling novelist, blessed us with a beautiful song of worship, which she sang using sign language at the same time.
The speaker for the evening was the well-known Jerry B. Jenkins, author of The Left Behind Series. Jerry knew we needed some light relief, and had us rolling in our seats as he told us story after story about people he knew in the writing world.
20:30 I wanted to get a book I'd bought by Jerry signed by him, but I had an appointment with Elaina Meyers. So Yvonne took my book and got it autographed, while I sat with Elaina.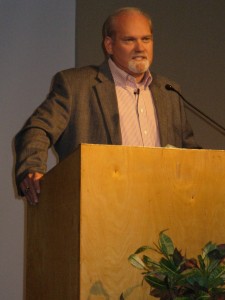 She too has asked for a proposal of one of my books. So add that to the pile of homework.
There were Special Interest groups on various topics, but I elected to go to my room and finish packing.
I had some special interest moments of my own, trying to fit everything into my cases, including a large tin of Virginian peanuts from Yvonne, and a bag of tapes. (Amazing how much smaller tapes are when you throw out the cases!)
It's incredible to think the conference is almost over, and yet what an action-packed few days we've had. I'm fast approaching information-overload, so it's probably just as well my brain will be able to ease off after tomorrow afternoon.
I have an important interview tomorrow—with the last agent from my list. So let's hope I don't sleep in again.