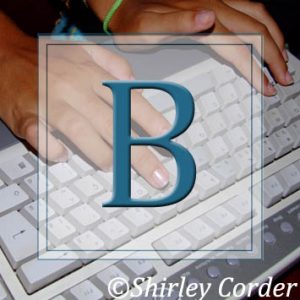 We're continuing to work through the alphabet, looking for ways to Build a Better Blog. Posted so far:
Today, we look at B. 
B is for BLOG A BOOK
You can use your blog to write a book. After all, what's the difference between reading a series on a blog, or reading a book online?
Start with a strong introduction
If you were writing a book, your first chapter would introduce the subject (or the main characters) and build a sense of expectancy for the reader. You need to make them WANT to read on.
When you start a new blog series, whether you intend initially to blog a book or not, your first post should do the same. You introduce the subject, then build your story / material / exposé  post by post until you've said all you want to say. You will then wrap it up with a satisfactory conclusion in your final chapter or post.
Disclosure: This post may contain some affiliate links for your convenience. Click here to read my full disclosure policy.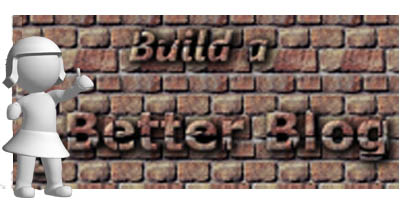 Watch the length of your posts.

A reader holding a book may be prepared to read several thousand words at a sitting. A blog-reader will not. There are two ways round this. Either split the "chapter" into several posts and publish them a day or two apart. Or sum up the chapter. Keep back unnecessary "padding" which you will add to your book when you publish it, electronically or in printed form.

The road to becoming a writer is to write.

If you want to become a better writer, the best discipline is to commit to a regular blog. It keeps you writing. How much more so if you're writing a book that demands to be finished?

But so often blogs are unnecessary personal notes that no one is interested, you say? True. But that won't be the case if you follow this series from the beginning. I'm sure you don't have the time to write material no one's interested in. Make sure what you're writing is of interest or assistance to others, even if it's only your family. (See next point.)

Write a book
You may write for your family only or as a memory bank of specific events or even if you hope it will see publication. Keep your eye on the possibility of your series turning into a book, and it will motivate you to write well and keep on track. This will show you whether you really have what it takes to produce a book on the topic. e.g. I plan to turn this series into an e-Book that will be available for download both through my website and through Amazon.com.
This applies to whether you are a writer or a mom wanting to stay in touch with your family. It doesn't need to be your theme forever, in fact, it shouldn't be. Choose a theme that you know enough about to make a start and that you can research easily. Select one that will be of interest to your readers.
Look for a wide enough theme



Select one that is wide enough to offer a variety of posts, but narrow enough to keep you on topic. e.g. I did a blog series on Out of Africa over one month. 26 posts on the topic of Africa. It was a vast theme, but narrow enough to keep me focused. This would make a good book, except for the challenge of all the photographs. If you start off planning to blog a book, the fewer images the better. (More on the topic of images in a later post.)
Decide how long the series will be
Will you blog for a month? For three months? For ten posts? Only share how many you will do on the theme once you're are able to deliver. If you're not sure, say something like, "Over the next few months, we'll be looking at . . . "
If you're doing a family blog, think of "Christmas with the Corders." Or "Getting to know the kids." Then when you feel you've covered the subject you can move on.
Do you anticipate this becoming a book? Then you need to think of how many chapters you will have and plan accordingly. But it could be that is not initially your intention. That's also fine. Just cover your topic, then see if you think it will make a book.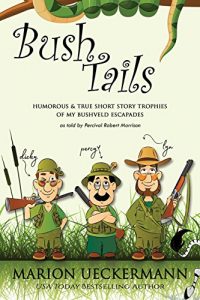 A friend and writer, Marion Ueckermann, wrote a series of short stories years ago about her father's hunting expeditions. A month ago, she decided to turn these into a book which looks as if it will be extremely entertaining, and I'm sure the family will all make sure they get a copy. (Click on the image to see more or to purchase the book.)
Choose a general theme
Then plan how to approach it. Working through the alphabet seems to work well for most subjects. It is wide enough to allow for a range of ideas, and at the same time it keeps the posts in sync with one another. But before you commit to that, quickly draw up a list of 26 topics, each starting with the next letter. Can you do it? Then go for it. You can always add more material if needed, should you decide to go for a book-length project. We are only on B in this series, but I have all 26 letters mapped out. I may change my mind, but I know where I'm going.
I am always astounded by the vast variety of blogs people submit for the annual A to Z Blogging Challenge. People write on Scripture verses, others write poetry, some do travel blogs of places they are visiting, and others share about places they once went to. One lady wrote on Bible Characters, another described plants, while one blog devoted to emotions and one writer wrote a "Bucket List" of places she wanted to go to, or things she wanted to do before she died. Many of these could be turned into a book
Make your post easy to scan. 
"People rarely read Web pages word by word; instead, they scan the page, picking out individual words and sentences." (Jakob Nielsen)
You want your reader to scan with enthusiasm as they pick up ideas they can implement. Bullets mean your readers can skim down and read the points that interest them. Headers in a different color help your sentences to stand out. Go on, be honest. Aren't you doing that with this post?
Avoid big chunks of text.
Use more paragraphs than you normally would, and don't be afraid of white space. Here is a major difference between writing for the Internet and writing for print. When faced with any big chunk of text on a blog, the reader is likely to skim over it. So keep your paragraphs short. This doesn't mean write less. It just means have more paragraph breaks.
Watch the length of your posts.
For a series, short is good. There is a tendency in today's blogging world to write long reports. This is fine if you have enough fascinating information to fill the page. But do remember your goal is to attract readers. And your readers are likely to scan and only stop to read if they are attracted by your contact. Less is generally more. People are busy, and they don't have time to read long articles with multiple points.
Speak directly to your reader.
Do you know the most searched for word during any given month on Google is the word you? The day I looked this up, the stats said it had been searched for 1,680,000,000 times! Once you're finished writing your blog, scan through it to see how often you use the word you. Try to involve your reader in your material or present suggestions they can put into practice. The word You is also a good word to emphasize in a book project.
For example, in tackling this series, I need to be aware that some of you may be brand new to the theme of blogging. So I need to cover the basics. Others of you may have been blogging for years, and you don't want to start with the basics. You're looking for some nugget that you can use to improve your blogging experience. I need to have something for all of you.  (Tell me in a comment whether I've succeeded or not.)
Find a blogging platform that works for you.
You may choose to have a blog as part of your website, as mine is. This has many advantages, not least of which is your readers are immediately aware of what else is happening on your website. If you prefer to only have a blog, look at Blogger.com or WordPress.com for free possibilities.
"My heart is stirred by a noble theme as I recite my verses for the king;
my tongue is the pen of a skillful writer."  Psalm 45:1
Previous Posts in the Series:
Introduction to Blogging
Awareness Alert
Please Note:
I plan to turn this into an eBook when I'm finished, so is there anything I haven't covered under a specific heading? When you read, please comment if you think of anything I should include. Thank you!
I'd love you to leave a comment or question at the end of each post. If you include a URL in your comment, I will get back to you.
Coming next: Creative Content
Introduction to Build a Better Blog. Start reading today.
Click To Tweet