About the Entertainer Blogger Award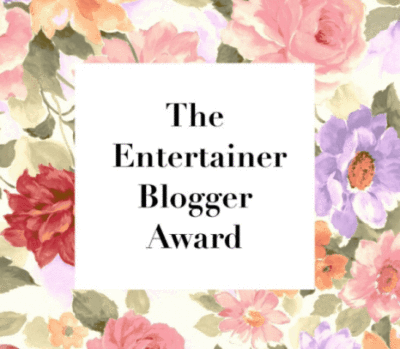 A special thanks to Debbie Harris for nominating me for this Entertainer Award, along with many other entertaining and inspiring bloggers. I'm delighted to be part of this line-up! Deb writes an entertaining blog that covers adventure, travel and beautiful photography. Read her application for this award here, as it gives you some insight into the person behind the name!
Rules:
Thank the person who nominated you and add a link to their blog
Add the rules, so others can follow
Nominate people who you find fun, inspiring and entertaining!
Answer the same questions
Include the graphic in your post
Why did you start blogging in the first place?
Following a fight with cancer, my immunity system was compromised and I couldn't work out of my home. As an RN, I couldn't so my work IN my home either. So I turned to writing, a hobby since my teens.
I created my first website and included its own blog. I wrote about topics that would inspire and encourage other writers, as well as posts to encourage those going through the cancer valley. My son helped me create a system whereby every post of any value could be channeled into a relevant topic, and so by writing in my blog, I also populate my website with meaningful posts.
Eventually, my cancer posts were getting top heavy, and I started a second website specifically to benefit those battling cancer. This site also has its own blog, so I now have the challenge of keeping them both fed and watered throughout each weeks.
What is your favourite book?
I am currently following a reading challenge for 2018, and I'm committed to reading 50 books this year. A few of my favourites that I've read recently are:
What do you dislike the most?
Marketing / selling my books. I don't mind the graphics and creating fun promotional graphics, but I hate having to encourage others to read my books, or accept money in exchange for them. As you can imaging, that's not good for sales.
What is your favourite food?
Roast meat, roast potatoes, and a selection of hot vegetables. Yummm
What is your favourite pastime?
Writing, which is fortunate seeing as how I do it most of every day! Also computer graphics. I love making pictures and designing my book covers.
My Nominees 
I have a vast list of favourite bloggers so I would like to nominate them all for the Entertainer Blogger Award. I love all of your posts, and if I had my way I would read every one of all your posts! So if I've commented favourably on any of your posts—I'm nominating YOU now!