Christmas is over for another year!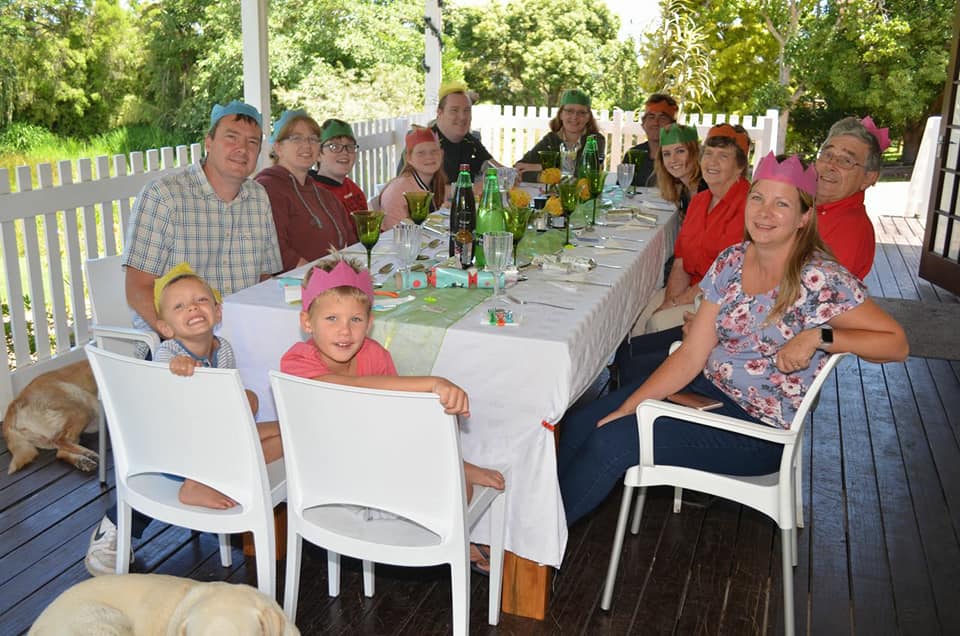 This Christmas has been truly special for us. Our elder son and daughter-in-law recently bought an amazing home on a large plot of land, with lots of bedrooms. They invited the entire family to join them for several days.
So our daughter and son-in-law traveled from Monte Negro, our younger son and daughter-in-law drove down from Johannesburg with their two children (our two middle grandchildren) and our eldest granddaughter joined us from nearby George.
We drove from Port Elizabeth and our family was complete, except for our eldest grandson who is stuck in the USA as he's working towards his green card.
It has been a wonderful time of making memories that will last a life time. I have no idea when (or IF) we will ever get together again like this, but I know we will treasure these times in our hearts.
The Old Year is almost over!
As I write this (Wednesday 27th December) our daughter, son-in-law and eldest granddaughter have taken to the roads on their way home. Tomorrow we return to Port Elizabeth, and our youngest son and family leave on Saturday. So Christmas is over for another year, and 2017 is rapidly moving into history. That, of course, means we're approaching the beginning of a new year—2018.
For some years now, there has been a tendency among writers to choose a word for the coming year. For the last few weeks, I have been sharing the idea of using the word, "thankfulness," as my theme for the new year. But I intend to  use the word almost as a logo or emblem.
A Year of Thankfulness
I have taken an idea from Daleen Reyburn (see her guest post, Christmas Every Day).  I've decided to work on my attitude. I want to have an attitude of gratitude throughout this year.
My goal is that I will be thankful for 2,018 items during the year ( no repeats allowed!)  To make this easy to track, I divided 2018 by 52 (the number of weeks in the year). That gives me 38.8 which I'm rounding off to 39.
Dividing that again by 7, I have 5 – 6 thanks per day!  That sounds totally possible. Don't you agree?
Cultivating an Attitude of Gratitude
Yesterday I purchased a block of post-its. I'm separating them into 5 packs, and I'll place them in various places around the house. Then whenever I spot something I am thankful for, I will head for the nearest pack and jot down the details.
I plan to draft a template for my Thursday posts and whenever I have a few moments to spare, I will transfer the "thankfulness points" onto the template. Each Wednesday, it won't take long (in theory!) to complete a post of 39 thankful points that I can schedule to go live on the next day, Thursday.
2018 is my year to build my attitude of gratitude. Each #Thankful_Thursday I will post 39 thankful points. Join me?
Click To Tweet
How specific does the thankful  point need to be?
I reckon very specific. If I list my thanks for "a beautiful day" I have automatically ruled out a whole lot of other options I could have used over the weeks. e.g. sunny day, beautiful blue sky, slight breeze, etc. I'm certain the very task of looking for blessings all the time must have a positive effect on my attitude.
Instead of saying, I'm thankful for "the Lord speaking to me from Scripture" I could be more specific and say, He spoke "to me from Romans 8:28."
Be thankful in all circumstances, for this is God's will for you who belong to Christ Jesus. 1 Thessalonians 3:18. Here's how to do this 2018 times in the coming year.
Click To Tweet
How about joining me?
Do you like this idea? Will you join me? I can tell you, I feel really excited. I believe this next year is going to be way better than 2017 . . . because I'll be looking for reasons to rejoice. But it'll be far easier and more exciting if a group of us do it together.
In order to achieve this, I'm hoping to establish a form of linky at the end of each Thankful_Thursday  post. If  you read the post and leave a link at the end,  I plan to visit as many of them as I can. I will also encourage each person doing the same challenge to follow as many links as they can. So not only will our attitude of gratitude rise, so will our blog traffic!
If you are reading this today, 28th December, you only have a few days to get ready. It will be great if a number of us start jotting down points on the 1st January.
The first #Thankful_Thursday will be on 4th January. So we'll only have three days worth of thankful points—about 16. Easy, right?
Of course if you don't yet have a blog, you have a bit more work to do! You have until next week Wednesday to format a quick easy one on blogger.com. Even if you initially only use it for your Thankful_Thursday that will be a great start.
God is about to grant us three hundred and sixty five new days. Surely, we can each find 5-7 thankful points for each of those days?
Who's going to join me as we each work on our attitude of gratitude?
Start recording on 1st January, and post on the 4th! Let's see how we do.
Join me as I aim to record 2,018 thankful points throughout the year 2018! #Thankful_Thursday
Click To Tweet