(Originally published April, 2012. Updated 20 June, 2017)
Antioxidants help to strengthen your immune system as well as boost your energy levels. They fight free radicals in your body, thus protecting your cells from damage. They are believed to be an important ally in your fight against cancer as well as heart disease and memory loss.
What are antioxidants?
The FDA in America has prohibited manufacturers from claiming that consuming their antioxidant products will reduce disease risk. Nevertheless there is no doubt that antioxidants help in the fight against disease. They are much better eaten fresh than bought in a bottle, where you may get a wrong balance when put together with your daily diet.
Antioxidants are nutrients, including vitamins, minerals and enzymes (proteins that assist in chemical reactions) that help to counter free radicals in our body.
What are free radicals?
A free radical is a normal byproduct of our metabolism which has become unstable due to the loss of one or more of its paired electrons. It therefore tries to steal the electron it needs from another atom, or deposits its extra electron into the stable atom. As a result, there is a domino-effect with free radicals. They need to be neutralized. This happens all over our bodies, many thousands of times every day.
Free radicals are normal byproducts and are not necessarily harmful. However, if we don't have sufficient antioxidants and these free radicals go unchecked, they will cause damage to many cells, causing premature aging and degenerative diseases.
Can you turn a free radical into a healthy cell?
Yes, you can. How? By giving it what it's looking for—in other words, by supplementing your supply of antioxidants.
Taking one particular antioxidant supplement is not sufficient as your body requires so many different sorts. The best way to supplement is to eat plenty antioxidant-rich foods, especially at the transitional times of the year, when viruses cause increased threats.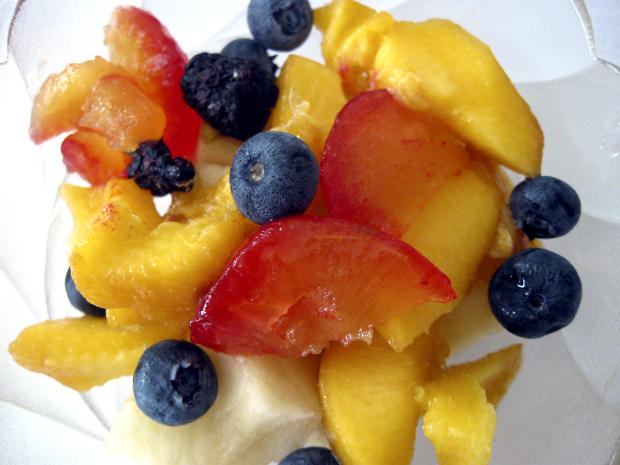 How to increase your antioxidant level without popping expensive pills: 
blue berries, black berries, and other bright colored berries
other deeply colored fruits such as plums and red or black grapes
citrus fruit
dark vegetables such as spinach (Popeye had it right!), kale, spinach, zucchini, and brussel sprouts
eggplants, red, yellow and green bell peppers, and other colorful vegetables
carrots, butternut and other orange vegetables
sweet potatoes, the new fries in town. Sweet potatoes cooked in any fashion are rich in antioxidants
fish—best eaten three times a week. Adding a small amount of extra-virgin olive oil adds to the anti-oxidant value.  Fish also provides us with powerful omega-3 fatty acids, which may help prevent inflammatory diseases. All fish have some omega-3, but the best are include sardines, salmon, oysters, mackerel, tuna steak, wild rainbow trout, shark steak, albacore tuna, and herring.
walnuts, pecan nuts, and other types of nuts
all forms of tea contain antioxidants. Rooibos and green tea are particularly nutritious. Another drink high on the antioxidant scale is red wine taken in small quantities.
Grain. This alone can make a difference to your health. Eat whole grain bread instead of white bread, wild or brown rice instead of white rice, tortillas made of corn instead of flour. In addition to antioxidants, grain contains zinc, selenium and phytochemicals which are believed to fight heart disease, strokes and cancer.
Best news!
I've saved the best for last. Dark chocolate! Yes, that's the good news! Taken in moderate quantities, dark chocolate will increase your antioxidant level.
"Cocoa is rich in antioxidant flavonoids called flavanols, which include procyanidins, epicatechins, and catechins," explains Harold Schmitz, PhD, director of science at Mars, Inc. Studies have shown that people with high blood levels of flavonoids have lower risk of heart disease, lung cancer, prostate cancer, asthma, and type 2 diabetes.

But do accept the spoiler. A moderate quantity—not a slab a day.
So look for those bright colors, and enjoy eating, or drinking, your way to good health!
Create an excellent habit
When I was recovering from cancer treatment, my nutritionist ordered me to buy a food processor. She wanted me to drink at least five colorful fruits and raw veggies before breakfast every day. It's nearly 20 years later, and both my husband and I start the day in this way. 
Follow this link!
5th January, 2018 – I received an email from Anna Kukircova inviting me to read and link to her post, How do Antioxidants Keep Us Healthy. I encourage you to follow this link and read it for yourself. It is an excellent post well illustrated with a video. Thank you Anna!
FROM SITE quotes CHANGED
FROM SITE STRAIGHT
FROM NOTEPAD