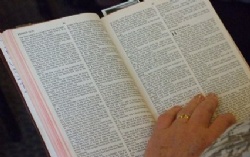 We all know the story of how Jesus turned water into wine at the wedding in Cana. The question is why. So the wedding party ran out of wine. This would have been a huge embarrassment for the host family, and a disappointment to the guests. How good of Jesus to work his first ever miracle to save the situation. The guests would leave the wedding talking about the happy occasion, and the great wine.
Yet this miracle is about far more than wine and a rescued wedding celebration.
The servants brought their empty vessels to Jesus. They showed him the truth. They had nothing left to offer. Jesus told them to do the best they could with what they had. "Fill them with water."
This they could do. It was all they could do. When they brought the water-filled containers to Jesus, He transformed the water into wine. More wine than the wedding party could ever use. Exceeding, abundantly more than they needed.
What would have happened if the servants had said, "This is stupid. It's only water. We're not doing it."? The wedding would have been a disaster, a dismal failure.
When I as a writer find myself out of inspiration, with no amazing message or enthralling story to tell, I can bring my emptiness to Jesus. He may tell me to use what I have; write the words that are available to me; do the best I can. Then I can trust Him to touch them and transform them into a life-giving message that will inspire and encourage people I may never meet.
He will not only change the words I have written, He will turn them into a blessing that is exceeding, abundantly more than I could ever expect or imagine. But I have to first write them. I have to give Him words to work with, then trust Him to perform a miracle.
And of course this doesn't just apply to writers. We all have places of need, areas of emptiness. Where do you need a touch from the Lord right now? Don't try to hide it from Him. Don't try to pretend you're okay. Bring the situation, the relationship, the emptiness to Jesus. Ask Him for His transforming power. Bring Him what you have, all you are capable of doing. He may not do as you expect; He rarely does. But be assured that one day you will see He has transformed your emptiness into a blessing exceeding, abundantly more than you can imagine right now. He wants to work a miracle in your life. But He can only do it when you give Him something to work with.
And unto him that is able to do exceeding abundantly above all that we ask or think, according to the power that worketh in us, unto him be glory (Ephesians 3:20 KJV)