It's one thing to write and self-publish a book. It's quite another thing to sell it!
I'm posting this under my list of reviews, but it's not a review in the true sense, as I haven't yet read the book. It just looks good, and it appears to be exactly what I was looking for. Here's what the Amazon blurb has to say together with many comments about the book. I can't wait to get started on it!
Disclosure: This post contains some affiliate links for your convenience. Click here to read my full disclosure policy.
The biggest challenge for any writer
The biggest challenge for any writer is to let people know their book exists. In this concise guide co-founder of the 30 Day Books studio Laura Pepper Wu shares actionable tips and secrets. You can use these to skyrocket the sales of your book and find new readers in places far outside of your current network.
"…concise, proven tips that save time. Her enthusiasm and genuine concern for self-publishers are evident on every page. Laura shares links, suggests other great books and inspires with her own challenges and triumphs." – Author Stephen Black, Furikake.
This short but sweet eBook was inspired by an author desperate for help. http://amzn.to/2dV3kfX
Click To Tweet
(Get it here.)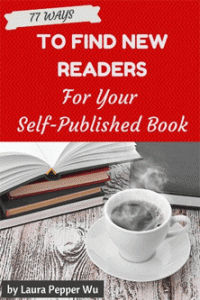 How do we break beyond the self-published community?
Marianne asked: "The self-published author community is really supportive of each other, but how do we break beyond it and promote to NEW readers?". She wasn't alone in wanting to find new readers. It seems that authors are thirsty for new and unique marketing ideas. Having them curated all in one place enables authors to cut through the noise and take advice for a tried and trusted source.
"Laura Pepper Wu is an author's best friend! With her assistance and always-friendly advice, I was able to laser-focus the platform for my novels. I achieved maximum visibility for my books, and plan for my future as a full-time author." – Author Lauren Clark, Dancing Naked in Dixie
Author Laura Pepper Wu poured onto paper the strategies and ideas she uses to coach self-published authors for over three years. She includes actionable tips on how to use them. 77 Ways is designed to inform, inspire and entertain.
"Laura is one of the most effective and professional people I've ever worked with. Her marketing plan and eBook strategy for our book was beyond my wildest dreams." – Sophia Viklund, Project Manager for The Dog Who Turned into a Lion
Try an idea on a regular basis
Try one new idea each day for 2-3 months. This will give you a creative marketing plan that is both manageable and effective. You'll break beyond your current network and find ways of connecting with new readers that feels comfortable and enjoyable.
Written by Laura Pepper Wu of the award-winning 30 Day Books book studio, self-published author and head of promotions for several Amazon best-sellers. Get your hands on a copy and discover a NEW approach – and several new ways – to promoting your book now!
"You will be glad you purchased this book!" – Melissa Wenzel, writer and founder of Melissa Wenzel Communications.