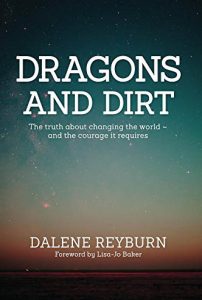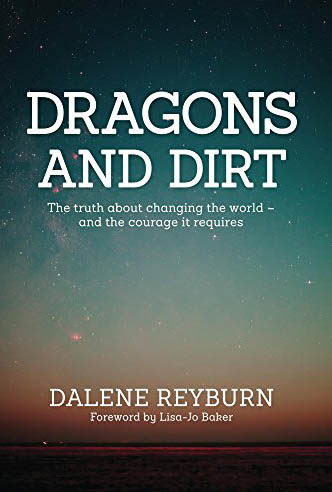 Disclosure: This post may contain some affiliate links for your convenience.
Click here to read my full disclosure policy.
Christmas Every Day?
Two weeks ago, South African author, Daleen Reyburn, wrote a guest blog for me, "Christmas Every Day." It was an excerpt from her excellent book, Dragons and Dirt: The truth about changing the world – and the courage it requires.
In her post (and in her book) Daleen describes a "trip" she took in 2013. She chose thanksgiving as her theme for the year. Instead of the usual challenge of having one item of thanksgiving each day for 365 days, she "decided to count 2013 gifts in 2013." She worked out that this meant thirty-eight-point-something gifts a week – for the 52 weeks of 2013.
In her post, Daleen describes in detail how this worked, until the end of the year when she stopped listing her blessings. Except she couldn't! It had become an entrenched habit, constantly looking for items to say thank you for, and she just kept going. She explains the life-changing effect it had on her life as well as on her two small children.
A Year of Thankfulness
During 2017, I have become aware of the number of times I moan and groan about situations. Some are valid complaints – but even so, being unhappy about them changes nothing. And in the process, I don't notice all the blessings surrounding the event. So, I've decided to make 2018 a year of thankfulness. And I'm copying Daleen's method.
I've divided 2018 by 52 (the number of weeks in the year) and I get 38.8. So my task is to come up with 39 (taking it to the next whole number) gifts that I can be thankful for every week. So by the end of the year, I'll have given thanks 2,018 times! No repeats allowed!

How to Keep Track?
How will I keep track of 39 thanks per week?
Back to Daleen's system.
I will keep lists in my journal, on my cellphone (thank goodness for a note-taking facility), on a magnetized pad on the fridge, in a notebook in the car's cubby-hole, and a small pad next to the toilet. Each time I spot one thing I can be thankful for, I will quickly head for the nearest list and jot it down. Once a week, on a Wednesday, I will gather the week's thankful points together, add more if I'm short of 39, and post the list on my blog under the header, "Thankful Thursday."
2018 is going to be my Year of Thankfulness. I'll post my list once a week on #Thankful_Thursday. Join me?
Click To Tweet
Will this work?
I can only think the very task of looking for blessings all the time must have an effect on my tendency to find fault! They don't need to be great big blessings, like a new grandbaby. (There can only be so many new babies in my family, after all, and I think we've reached our limit!)
Perhaps I am grateful for a day without wind in Port Elizabeth (S.Africa's "Windy City") – some days, even an hour without a wind would be a source of thankfulness! It might be a good meal – or even the way the slap chips (American fries) came out crispy but tender inside. It could be an enjoyable visit with someone, or even a text message from a friend or family member. There will be messages in Church that bless me, or a verse of Scripture that challenges or amazes me. It could be that I'll finish my next book. (Actually, there should be several in my series during the year.) Or maybe I can just give thanks that I managed to complete several paragraphs in an otherwise chaotic day.
Daleen remind us that the apostle Paul wrote, "Be thankful in all circumstances, for this is God's will for you who belong to Christ Jesus." So does this mean I must give thanks for the robber that broke in and made off with my new TV? Most certainly not. But I can give thanks that my husband and I were out at the time, and so we were unharmed.
God is Still God
In my most recent book, Miriam – Gifted Leader, I tell of an incident involving Gladys Alyward, the missionary to China whose story is told in the movie, The Inn of the Sixth Happiness. She was attempting to lead a band of children to safety during the Communist takeover. One day, when she faced desperation, a young girl attempted to assure her of God's guidance by saying, "Remember the story you told us about Moses in the wilderness."
Gladys replied, "Yes, my dear, but I am not Moses."
The little girl answered, "But God is still God."
No matter the circumstances I face this year, and I know that there will be many difficult ones, I need to look beyond the obvious (I'm no Moses) and recognize that "God is still God." I believe the search for 2,018 blessings through the year will help me do that.

Looking for Company
I would love to do this as part of a group. How about joining me? This is where I imagine a Link Party will fit in, as described by Sue Loncaric in last week's guest blog. I need to work out the details of that. I believe I'm far more likely to persevere and succeed if I am answerable to a group of you . . . and I'm sure the same would be true of you.
It really sounds very doable, don't you think? 39 thanks a week = only five-and-a-half thankful points a day.
Throughout the day, wherever we are, jot down thankful points.

Try for at least five-and-a-half.

Once a week, type them all into a blog post. There should be at least 39.

We don't need to clarify – unless of course we want to. We can just publish the list. If we don't want to identify someone, we can use initials or a pseudoname.

At the end of each weekly post, I plan to keep a running total. (This is not an efficiency measure, it's laziness. I don't fancy adding up 52 numbers at the end of the year!)
If we miss posting one week, no sweat. Just list 78 the following week. 😆

That alone will help keep me faithful.
How about it?
So – how about it? Do you like the idea? Will you join me? I can tell you, I feel really excited. I believe this next year is going to be way better than 2017 . . . because I'll be looking for reasons to rejoice.
One last point. If you don't yet have a blog, maybe this is the nudge you need. Format a quick easy one on blogger.com. It couldn't be easier. Even if you initially only use it for your Thankful Thursday that will be a great start.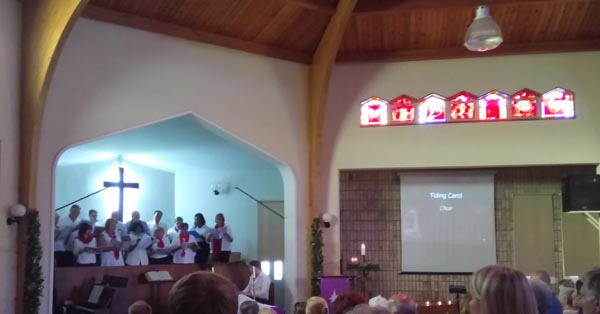 This is probably my last post before Christmas. Carols already ring out in the shopping centers. Churches hold carol services and nativity plays. Homes, churches and shops are beautifully decorated as we celebrate the greatest gift ever. We remember how Jesus Christ came to earth as a tiny baby to offer us the gift of salvation. What better way can we "pay it forward" than resolving to look for all the blessings and gifts we receive, not just on 25th December, but throughout the whole year of 2018?
Join me?
Join me as I choose the theme of Thankfulness for 2018. #Thankful_Thursday
Click To Tweet